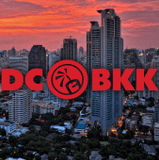 I've had my head buried in work w/ Social Agent locked up here in China for months – its about time I go out and network! I have always loved what Dan Andrews and the guys at TropicalMBA.com have been doing – having attended their first Tropical MBA meetup back in June 2011 (wow how time flies!), and I missed last year's annual conference. But this year I am gonna catch it! Got a last minute open slot to this year's sold out event and am gonna take the chance to network with other global internet entrepreneurs!
Update – View all the DCBKK Action Over The Years
I've been to quite a few of the DCBKK events – and here's a round up of others you can read about on Mike's blog:
DCBKK 2019
with Alpha Rock Capital launch party
https://mikesblog.com/epic-alpha-rock-launch-party-in-bangkok/
DCBKK 2018
I can't find a blog I wrote….hmm did do a video blog with Nathan Rose
https://mikesblog.com/putting-it-forward/
DCBKK 2017
https://mikesblog.com/christmas-time-digital-nomads/
https://mikesblog.com/post-dcbkk-2017-reflection-ripping-off-bandaid/
Video blog:
https://mikesblog.com/ripping-off-band-aid-mikes-blog-051/
Video blog
https://mikesblog.com/content-creators-surrounding-people-like/
DCBKK 2016
https://mikesblog.com/digital-nomad-conference-dcbkk-2016-mikes-blog-053/
https://mikesblog.com/learned-dcbkk-2016-day-2/
https://mikesblog.com/learned-day-1-dcbkk-2016/
Writeup of DCBKK 2015
https://mikesblog.com/amazing-time-at-dcbkk-2015/
Going to DCBKK 2015
https://mikesblog.com/dcbkk-here-i-come-dynamite-circle-annual-conference-in-october/
Writeup of my experience in DCBKK 2013
https://mikesblog.com/amazing-dcbkk-bangkok-time-to-step-up-my-game-turn-pressure-into-action/
This Blog is for DCBKK 2013
The event is officially Friday Oct 18 til Sunday Oct 20, 2013, but I will get there a day earlier and stay a couple extra days to take part in other meetings and catch up with my good friend Dustin Ellard!
Below are my flight details:
Departure
Thu, Oct 17
Hong Kong Airlines Flight 771 Take-off: 9:15a
Landing: 10:40a HKG: Hong Kong Intl
BKK: Suvarnabhumi Airport 2h 25m
Coach | Airbus A330-200
Return Flight
Tue, Oct 22
Hong Kong Airlines Flight 776 Take-off: 3:05p
Landing: 6:50p BKK: Suvarnabhumi Airport
HKG: Hong Kong Intl 2h 45m
Coach | Airbus A330-200
Here is the "sneak peak" at the basic overview of the agenda:
Friday, October 18th, 2013 (all times approximate and will likely change).

10AM – Registration
11AM – Mastermind workshops (optional and additional, more details below)
8PM-12AM – Opening Party. 2 hours of open bar included in with your conference ticket (8-10 PM)

Saturday, October 19th

8 AM – Registration
9AM – Presentations on a broad range of topics from DC luminaries and special guests, along with snacks, coffee, and tea breaks for discussion (included with your ticket).
1:30PM – Lunch (included) – Eat lunch with fellow conference attendees 37 floors above the beautiful BKK skyline.
2:30PM – Presentations and keynote.
5PM – Hit the town for dinner (not included).
8PM – Casual meetup to swap notes, location TBD

Sunday, October 20th

9AM – Presentations.
1:30PM – Lunch (included).
2:30 – Presentations and keynote.
5PM – Dinner (not included).
8PM – Closing party, location TBD.
Its a private event so I'll respect their privacy and not post too much up here. Totally pumped to meet some old friends, learn some new internet marketing tricks (I try to keep up, but want to learn from the masters).
Another thing – I haven't fully announced yet, but for Social Agent, we're working on an "International" version that is going "outside of China" in response to a lot of feedback from clients both in and out of China. We still need to pick a launch date, but should be in the end of October.