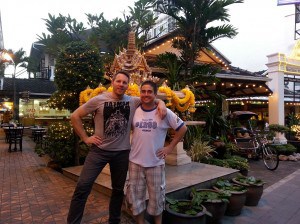 Sitting at the Bangkok Airport writing this up…mind is still spinning from ideas and motivation from this past weekend's Dynamite Circle Bangkok (DCBKK) yearly conference. My life is already undergoing massive changes with my wedding coming up, baby on the way, and startup Social Agent taking shape. This conference just helped re-ignite my passion for the internet, blogging, and will finally jumpstart a podcast (I'll announce in a day or 2…will be globalfromasia.com).
I also just finished reading a Techcrunch article The ulimate cheat sheet for reinventing yourself, and feel now is really the time I change who I am. I've already been waking up earlier, slowing down my drinking, focusing on fewer businesses, and more actively controlling who I spend my time with.
They said we can't openly blog / share notes of speakers without asking each speaker's permission, so I won't be sharing my notes here, but I will share some general takeaways.
These are an assortment of quotations from speakers such as Peter Shankman, Rob Hanly, Mike Covel, Jon Meyers, Peter Keller, Podcast panel, Jodi Ettenberg, James Schranko, and other amazing speakers and sharers.
There is a business in being nice – Use your name in the from in emails. Be accessible.
Brevity – Learn How to Write More with Less. Learn to write!
Design Things that Create Value. – Design increases trust, and increases sales.
Table Selection – Choose which table (market) you want to sit at.
Put Your Face On Your Website – Build trust.
Provide Help For Your Audience – Educate your market, be the market leader.
You Need to have Haters & Trolls – it confirms you're on the right path.
Everyone Needs a Podcast! Think about your audience, your target listener (1 year after your podcast develops). Are those listeners your target clients?
Care About Your Team – as your team cares for your customer
If you're Cheap, Do you reflect that on your product's pricing? You may be cheap, but is your target customer cheap?
An Entrepreneur Makes Systems – Unscramble your business, delegate to your staff to make SOP (standard operating procedures)
I'm going back to Shenzhen with huge motivation. No talk, all action. Gonna keep this post short – brevity is important.