Been pretty actively getting questions, comments, and phone calls from friends about how I filed a USA passport for my 2 week old son that was born in China.  While my baby was born in China, this process is the same for anywhere outside of the United States of America.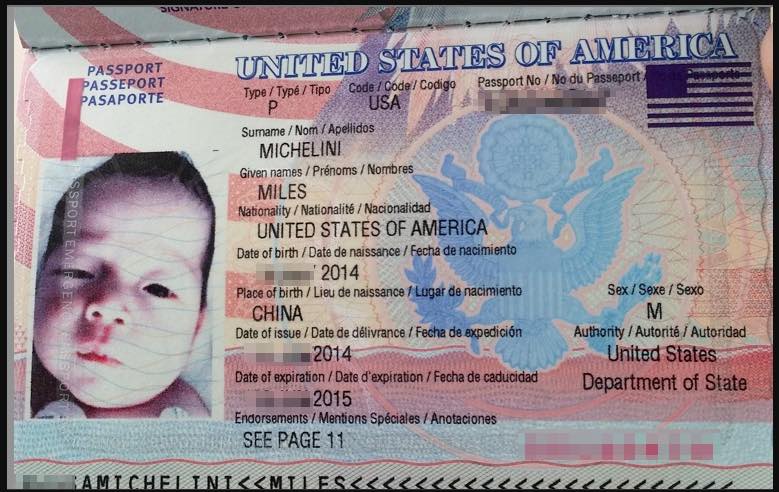 Diving Head First Into The Process
It's a rather straight forward process.  The main thing to keep in mind is, what nationality do you want your newborn baby to be?  If my son had been born in Hong Kong, he could have been both Hong Kong and USA.  But by being in China, he could not be dual citizen in China and USA – as China will not allow anyone to hold more than 1 passport.
So we had to choose between USA or China citizenship.
We choose USA.  My wife isn't a local Shenzhen resident anyway, so the education in local schools would be almost the full price as if he were a foreign or American baby – (she is from Shenyang city in the north – and each region has different tax benefits / costs for education and other perks)
Once decided, the US embassy is where you need to go, Guangzhou's is the one for us – as Miles was born in Shenzhen, China and that falls under Guangzhou's American embassy.  (But to be honest, for me personally, I normally go to the American embassy in Hong Kong, but for this situation, had to take the trip to Guangzhou – Hong Kong is much more convenient for me and most in Shenzhen).
The website is pretty clear, but it is a bit daunting, I will reference it here, but also discuss my "story" to be a less overwhelming and "technical" government feel.
What I needed to get started filing a USA passport
Birth certificate from the hospital he was born
Both Parents to go to the Embassy
Baby to go the the Embassy (I was able to get this waived as my child was in intensive care and we had a doctor's note)
Marriage certificate
My USA passport
My wife's Chinese identification card
Passport photo –  2 inches by 2 inches, white background, eyes opened, facing the camera
Fee: $105usd for a new US passport.  (can pay in US dollars or Chinese Yuan RMB)
Step 1: Please read the instructions below
Step 2: Please make an appointment online(If you need more than one service during your visit, please be sure to make separate appointments.)
Step 3: Please complete U.S. Passport Application Form DS-11
full website with directions and detailed FAQ go to – http://guangzhou.usembassy-china.org.cn/childrens_passport.html
But then I learned about another document…a COBA (certificate of birth abroad) see below
COBA – Certificate of Birth Abroad
My friends call it COBA – it's easier to remember for me than CRBA – but technically the definition and acronym below is:
What Is A Consular Report of Birth Abroad? A Consular Report of Birth Abroad (CRBA) is evidence of United States citizenship, issued to a child born abroad to a U.S. citizen parent or parents who meet the requirements for transmitting citizenship under the Immigration and Nationality Act (INA).
Complete Consular Report of Birth Abroad application: Form DS-2029
Fee. The application fee for Consular Reports of Birth Abroad is USD$100.00.
http://guangzhou.usembassy-china.org.cn/children-and-birth-abroad2.html
How long does it take?  About 2 weeks.
So I filed a USA passport and COBA at the same time
I printed out both of the forms and filed at the same time.  Seemed to work just fine.  May as well take care of 2 birds with 1 stone, right?
Total fees were $205 us dollars.    Waiting time is 2 weeks.
I got a receipt of payment, as well as an authorization form to grant a friend / someone I trust to pick up the passport and/or COBA at the embassy if I couldn't do it myself.  They will not mail it – it must be picked up.
Another note – you do not need to file a US passport right away – but the child cannot leave China / that country if an emergency (medical, political, etc) so I feel more comfortable to get it ASAP.
Hope this is helpful. And hope some comments below share some ideas and insights I may have missed.
I'll try to keep this up to date.
Here's how I updated his passport years later – read below:
Renewing My Kid's Passport In China (Abroad)
This has been a popular blog post – about filing and getting issued your kid's first passport – the issue is it only lasts a year or 5.
Now we have renewed the passport a couple times for Miles since writing this original blog post (crazy!) and want to write up the things we learned renewing the passport
Schedule an appointment as your nearby US consulate.
We picked Shenyang as the kids would be here for 6 months.
Note – the kid won't have a passport for a couple months (6 weeks or so)
So don't expect them to travel. But the other alternative is to have the baby's passport still active, and then once the new passport is ready you can pick it up.
What we did was had a shipping courier company have a pre-paid label so that once the passport was ready it would be sent to our home in Shenyang, China.
Need to fill out Form DS-11
I thought I had to fill out a different form DS-88 – but it was for people over 16 years old. Because my child was under 16, I had to fill out form DS-11
Print in advance. I paid a print shop across from the US consulate and filled out there (paid 6 us dollars – well also passport photos!)
Have 2 passport photos ready. Or just pay a print shop next door (almost all consulates have one next door)
In China- they didn't let me use my USA number and USA address- they wanted a Pinyin Chinese address and phone number – so we used my wife's (as I'll be traveling soon).
Enter The US consulate (no laptop, cameras)
So I knew this going in, but wanted to make a quick video blog for this – don't expect to bring your computer and bags into the US embassy. Certain ones don't even have a locker – you need to use a third party company.
And that is what we did – across the street there was a shop (that also did printing and passport photos) which took care of this for us, for 20 RMB.
Wait in Line, Took about 45 minutes
Hopefully not too long. They will check your forms, and then charge you 115 USD (that is how much we paid)
The whole thing took about 45 minuets
The whole process, from our 2:00pm appointment took until 3:00pm (but some extra time checking in, etc)
I can imagine this can be a lot longer if the embassy is very busy.
Good luck! Dealing with my own passport was a hassle, but now having 2 kids just adds to the complexity (I mean fun!). Hope I made it a little bit better for you.
Now I will do it for my second kid, my daughter Maggie, yay!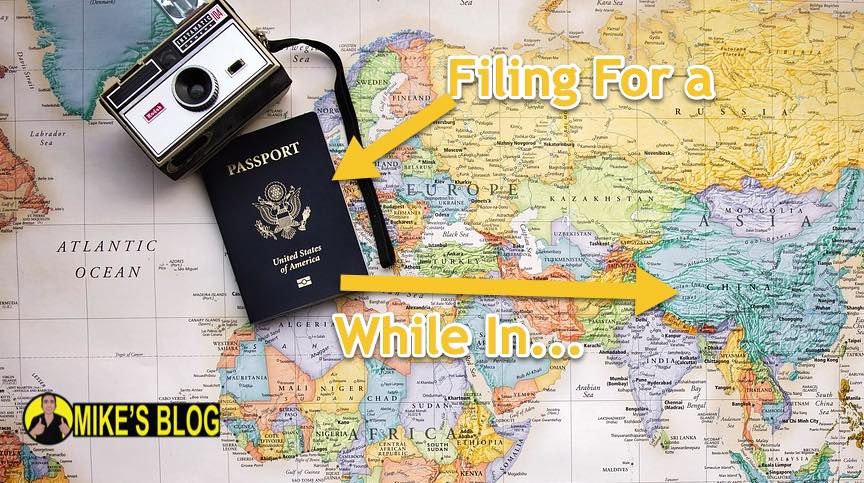 Help Each Other In Comments Below
Since writing this blog (I remember being so stressed as I typed each word) – a lot of other parents have shared their experience and knowledge in the comment section below. I encourage you to read and also add to it so we can all help each other out in these complicated and scary situations and processes.