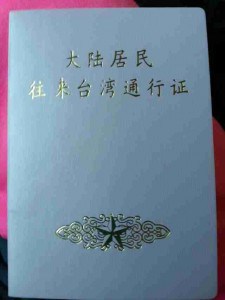 I know most people outside of China aren't aware of the Chinese holidays but the past couple weeks have been back-to-back holidays
Mid autumn festival (mooncakes) was 2 weeks ago (went up to Beijing and then Shenyang)
Workweek started again last Sunday for 3 days and then back to another holiday starting Wednesday
Wangxia and I had a trip to Taiwan, she told me she had the visa sorted allowing her (with a mainland chinese passport) to enter the Taiwan island having been issued the visa from the Chinese government permission to leave mainland China to enter Taiwan.
Hotels and flights booked we went to the airport on Wednesday afternoon. Going to check-in, the airline company saw she only had 1 visa booklet (blue colored) issued from mainland china government, but didn't have a salmon colored visa booklet issued from Taiwan allowing her to enter…. of course angry and fury from Wangxia to the airline company (she can get good at "bargaining" she claims it to be) but there wasn't anything she could do. The Chinese government visa office told her this 300rmb visa passbook was all that was needed to enter Taiwan. The airlines said that is because the government workers have never entered Taiwan and don't know the realities. Taiwan would not have let Wangxia enter and then the airlines would be responsible to fly her back to Shenzhen, China on their dime.
My USA passport has no problem at all to enter Taiwan, but of course I couldn't leave her behind. The airlines allowed us to cancel our flights with a small cancellation fee, but the hotel in Taiwan wouldn't refund any of the 4 nights we prepaid, I believe its because we booked from a mainland china travel company and they said its international travel that isn't able to be refunded.
Turning back to the taxi line, my buddy Chris Gormley and I were chatting on wechat and popped the idea of going to Macau. Why not? Already packed and ready to go somewhere, we went to the ferry terminal down in Shekou on this Wednesday evening.
Macau was flooded with mainland tourists for this Golden Week (Chinese national day holiday) and all hotels were booked. We had s late dinner and toured around casinos until late anyway, finally finding a massage center allowing us to sleep over.
Thursday walked around some tourist spots and took a late afternoon ferry back to Shekou.
Relaxed the rest of the weekend, riding bikes on Shenzhen bay and meeting friends.
Honestly this is why I like being my own boss…. to travel when everyone else is in the office. …
Really sucks about the Taiwan trip… more harsh realities of passports, visa, and international living.
Things most of my American friends probably never will face. Sharing some of the frustrations and exhaustions of it today.