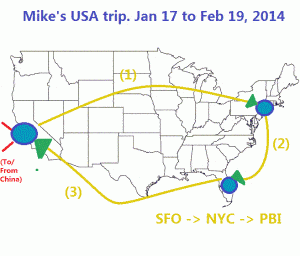 Haven't been to America since 2012 (went 2 times, once in Aug 2012 for sister's wedding, and May 2012 for Startup Weekend Seattle / west coast) and 2011 that I was in the east coast of USA!
So seems all of this year, 2013, I won't have been to America once…not the first full year overseas, but still something worth noting in my mind and sharing. Maybe extending these more and more.
Another thing to note, is this time I won't be traveling alone (normally I always travel alone) – Wangxia (Wendy) will come with me from China as well – her first time to America.
As I do many times, here is my agenda so far, and I will use this blog post to further detail and outline my trip.
I booked the trip from Jan 17 to Feb 19 – its a month which may seem like a long time, but time always goes so fast. Also Chinese New Years holiday is in the middle, making sure to book enough time before and after the holiday to avoid the holiday rush. And as far as which cities – I always try to do these 3 points – (1) LA / San Francsicso, (2) New York / Connecticut / New Jersey, (3) Florida. Here is the outline.
San Francisco (SFO)
ARRIVE: Jan 17, Fri, 09:30am
Agenda:
Meet startup friends, networking.
Meet Social Agent users.

New York City / Hoboken, NJ / Connecticut
Domestic flight not yet booked
Agenda:
Meet hometown / college / Wall street friends
Meet Social Agent users

Florida
Domestic flight not yet booked
Agenda:
Spend time with family
Corporate stuff with my USA company, taxes, accounting

San Francisco (SFO)
DEPART: Feb 19, Wed 11:25am

Update December 2013

Here is a basic map of cities I am looking to visit:

San Francisco
Salt Lake City
Bad Lands National Park
Chicago
Detroit
Niagara Falls
Hartford
New York
Washington, DC
Savannah, GA
Port St Lucie, FL
New Orleans, LA
overnight between NO + LAS
Las Vegas, NV
SFO