A few days ago I got a Chinese driver's permit – and once I shared the news my friends on social media were so curious how to do it – so I thought I'd take the time and blog about the process. Thanks to Angel, Chris, Wangxia for the help!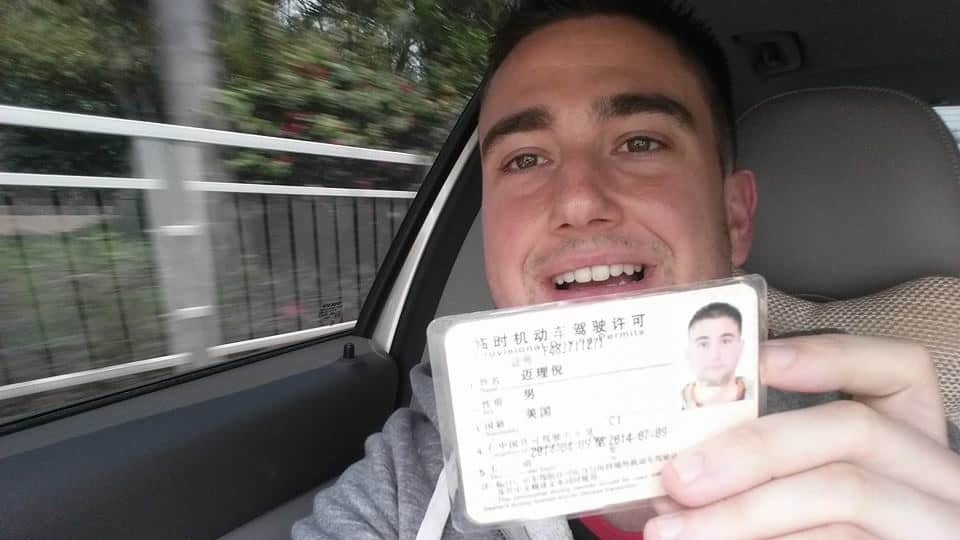 So this isn't an actual Chinese driver's license – its a temporary permit – and it doesn't have any sensitive information on it (thus I don't blur anything out on the blog photo today) and mine is for 3 months, from now until July 9th. So on July 9 I gotta do the same process to extend it / renew it.
If I want a real chinese drivers license its a bit more complex, need to take a test, etc. Have heard mix feedback from friends on it –
But this is a rather fast and painless way for those w/ an overseas license to get a temp permit to drive in China.
I'm considering just renewing this all the time…but main reason I got this driver's permit was to drive Wendy to hospital to deliver the baby!
First – What kind of Passport Visa Do You Have?
Depending on what type of visa you have in your passport, and the length you can stay in China, will determine the length of the driver's permit. My friend has a business visa that is a 30 day stay – so he was only issued a 20 day permit – after 20 days he has to go through this process again to renew / keep it.
Fore those with a longer length of stay per visit, which is normally a work permit status, you should (I say "should" because who knows how/when they rules are updated) get a longer time. I'm on a Chinese work permit, which is a 1 year stay, so they gave me 3 months.
Not exactly sure how they determined the length – as my stay is until December but they only gave me until July 9. Why not more than 3 months?
Steps I Took to Get a Temporary Chinese Driver's Permit
So here is the step by step I went through. This is in April 2014 in Shenzhen, China – not sure how this will change in the future, and not sure if its different in different Chinese cities.
Official Translation agency to Translate Foreign License – You need to have your overseas / foreign drivers license translated to Chinese by an officially authorized Chinese government approved translation company. I went to one in Coastal city, Nanshan district of Shenzhen inside the Tiley building. It takes maybe 1 week to process, so once this is done you can move to step 2.
Residence paperwork at local police – Once step 1 is complete, you then need to prepare to go to the DMV (step 3 below) but before you go to the them, you need to make sure you are registered with the local police (your address). There should be some official receipt you'll get with your photo on it connected to your Chinese residence address. You'll need to take this with you to the DMV below. Because I live in Shekou district, I went to the local Shekou police department. I did this the morning before I went to the DMV (below)
Shenzhen dmv (department of motor vehicles)– Here is where the magic actually happens. I have only done this once, will probably renew it at least 1 or 2 times, so this step may be more clearly defined later. I remember having to go into the DMV for an eye check. I filled out a form while in line. I waited in line to get an eye test (lots of pushing and cutting)- and when I got to the front, I needed to have the official photos from the DMV, so I had to go to another section of the DMV to get "passport style official DMV photos printed" – cost was 30rmb for 4 photos. I need to use 1 photo for each time I renew this work permit. Then I took the form, the photos, and went back to the eye check. It was a few questions where I was asked is this arrow pointing up or down or left or right from different distances. Then they stamped me and I took the form and went to another office. This was where I had to wait for about 1 hour for them to process the permit (laminate the photo to a card) and verify my passport matched my name, etc etc.
So I hope this helped clear things up, I may add addresses / edit this as I go along. I should also start to document and study how an actual Chinese driver's license is obtained! Stay tuned.
Honestly, it wasn't as painful as I imagined, but then again, maybe I have just been in China too long and I'm used to this, haha!
---
I received a followup email privately, sharing here for those interested
Thanks for the helpful posting on getting the Driving permit in Shenzhen. I am interested in getting a permit and have few more questions:

1- Since I only stay few days in Shenzhen is there a quicker way of getting my Jersey DL translated? Can they do it in advance like work off a scan image?
My Answer Not sure, I think its meant for people who live here at least short term? They checked my license when I gave it to them, photocopied it and gave it back to me. But I'm not sure I'd have to go there and ask

2-Residency, What happens if I stayed in a hotel? Can I use friends address to register?

My Answer: I think this is OK if your friend agrees to it.

3- I heard you would need to get some health certificate from a local hospital, is that the case?
My Answer that is for a license, I have a work permit

4-Can they issue the permit while you wait once you have everything in order?
My Answer Ya, once I had the translation done and residency done, I had just to go to the DMV, and to renew it, just have to go to DMV again.

Appreciated much for your help in this matter,
Kevin