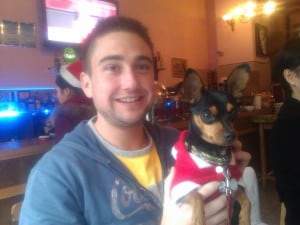 Many of my family and friends in back home in USA ask me how do I celebrate Christmas in China.
I have been celebrating Christmas in China for the past 4 years now (almost 5), well, technically last year I crossed over to spend Christmas in Hong Kong…as I almost was here in Christmas 2007, but Spent it with my family in Florida – I have kept up with at least a quick post each Christmas the past few years, some others:
But yea, in China, Christmas isn't recognized as a holiday, but each year, shops and city governments decorate more for it (they say sales go up in the shops that have Christmas decoration). The Chinese people respect foreigners here and they always check up on me in what I am doing. In 2009, I actually worked on Christmas day…but this year, it was a Sunday and I am getting better at relaxing a bit more.
So for the most part, foreigners here find a bar or restaurant that has some sort of Christmas dinner special, this year I hung out at my buddy Marshall's bar, Jordans – below is the info:
Cheers & Jordans to host Christmas Buffet Lunch together on Dec. 24th

For those Shenzheners who are planning to be in town for Christmas, Cheers and Jordans bar in Shekou (rose Garden II) invite you to bring your family and enjoy a delicious Christmast lunch.

We will be serving buffet style on Dec. 24 at noon the following:

– Turkey
– Ham
– Stuffing w/Gravy
– Cranberry Sauce
– Mashed Potato
– Caesar Salad
– Broccoli
– Fresh Fruit
– and for dessert… warm Apple Pie!

Everything will be homemade and delicious and we hope to see you there!

Cost: Adults 150rmb and kids under 8 are 50rmb
Its all about spending good times with good people, maybe I am a bit bummed out seeing friends leaving China….but I still have quality friends and connections here.
I also just like to have a day of rest and emails slowing down from bombarding my inbox! Cheers!