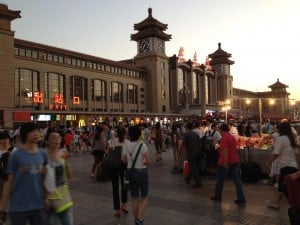 Back to the heart of Chinese internet, feel sometimes like a lone ranger heading to a land many dare not to enter. Beijing is home of the majority of Chinese internet companies, and in order for my latest startup Weibo Agent to succeed, I need to have stronger relationships with these companies.
Many have always been questioning what I am going to do in Beijing, why am I focusing more on Beijing these days, let me take today's blog to talk about why I'm heading there again after last month's GOAT (geeks on a train) trip:
Sina Headquarters
Starting with Sina, its headquarters are in Beijing. Sina is owner of the biggest Weibo (yes, there is more than 1 Weibo, its not like Twitter). Sina Weibo is the first and biggest of the "Chinese Twitters", but Tencent Weibo has been moving up quick as a respectable competitor in the Chinese microblogging space. Actually Tencent is headquartered down in South China's Shenzhen where I spent the majority of my time here in China, so that would be much more convenient for me.
But alas, Beijing is still the king of Chinese internet companies, and Sina is still the king of microblogging with its userbase mainly higher level executives in 1st tier cities. And our Weibo Agent startup is focusing on Sina Weibo in its first version (though many have suggested we also consider Tencent)
So I need to build up my "guanxi" (relationships) with Sina, and hoping to get to know more of their team and build up their trust.
Developed Angel Investor Community
In addition to Sina being in Beijing, there seems to be a ton more angel investors here than when I was down in Shenzhen. They are all looking for opportunities. Even when I was on the flight back from Hawaii, I met an investor on the airplane that is based in Beijing (talked to him in my limited Chinese too, met his wife and daughter).
Just tons more options for a startup to get funding there than any other city I have been in. But, I cannot compare to Silicon Valley as I never spent time there (I chose China over SF….)
So I have some meetings with angels and investors and business mentors in Beijing this trip as well.
I'm getting beat up (so many tough questions), but its better to get beat up early, and learn about the holes in my current business model, than to hide and wait til the end of this incubator program to find out the problems.
Internet Marketing Conference in Beijing this weekend
There is also an internet marketing conference all weekend held by my friends TimeV (based in Xiamen), so I'll be able to "hyper-network with tons more internet professionals.
Its all in Chinese, and the link is http://www.timev.com/event/pm2012bj-t/index.html for those who want to meet me! Here is some limited English translation:
Saturday, Sept 15
9am – Song Wei, co-founder of Great Wall Club opens
9:10am – Zeng Rong (RQ!) founder of TimeV open
Change the world, 1 heart – Wang Hua, co-founder of Innovation Works
Product Behavior
Forum: Product Changes over the Past Decade

lunch

Forum: Is a product manager a generalist or a specialist?
Making Big Changes in Small Amounts of Time
To Create an Open Platform World
Data Mining infomatics
5:30pm end

Sunday, Sept 16
9am start
Everyone's a product manager
From Quantitative to Qualitative
Experience Counts
Product Manager Independence

The video microblogging product design experience

Mobile Internet trends and product design

And so many more….

Monday, Sept 17
Search Engine Conference.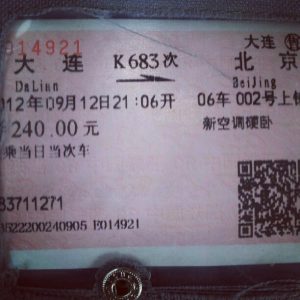 Typing this up from Dalian, late Sunday night planning my week. Few more days in the Chinaccelerator office, then an overnight train to Beijing on Wednesday night. Top bunk at least.
Leaving 8pm Wednesday night from Dalian, arriving in Beijing 7am Thursday.
The life of a startup…its beautiful.