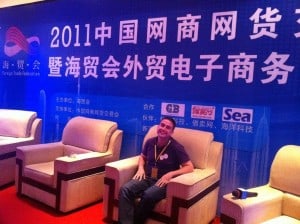 What is getting more and more funny…and crazy at the same time…is that I am getting busier and busier on my Sina Weibo, Tencent Weixin and QQ, talking about English social media and American vs Chinese culture and way of life.
Those of you following me, my life, and this blog have seen me spending the last year, even year and a half now doing Shenzhen ecommerce seminars, hong kong twitter meetups, and an attempted manila meetup – as well as recruiting + training. Before that I was doing my own internal training….but realized to make things more open.
After cooperating with a Chinese Foreign Trade Federation I am finally realizing I cannot keep having free meetings…..especially in China. Chinese people always tell me, if an event if free in China, they see it as an advertisement, or low quality. Sadly, they say, the more expensive an event, or product is, the more valuable it must be.
So I'm going to have this Chinese event marketing team market + sell my training services…and we will test it out on Saturday, Jan 7, 2012. I have tons of powerpoints from the many years doing this, but I the most popular topic is SNS (social networking)
Today I am writing up the english outline of the class (which will be translated to Chinese in a bit), and figured I would blog it as well. Let me know if you have any feedback:
English Social Media

On Saturday, Jan 7th, 2012 in Shenzhen (location to be determined) Michael Michelini will give an intermediate level English Social Media Marketing training seminar.

What: Intermediate Level Social Media Marketing Training Seminar, Focus on Twitter, Blogging, Facebook

For Who: Companies that are currently utilizing facebook and twitter for their company's social media marketing but need ideas and strategies to better improve their effect.

When: Saturday, Jan. 7, 2012 2pm – 5pm

Where: Nanshan, Shenzhen, China

Why: Social Media continues to be a critical part of online marketing and promotion, companies need to ensure their SNS strategy is fresh and actively marketed.

How Much: 800rmb per person

Agenda / Topics:

Measuring / Benchmarking Your Current Social Media Presence – How to analyze your current SNS positioning versus your competition, and how to better track progress in the future.

Understanding Success in Social Media – Is it a twitter account with 10,000 followers better than one with 1,000? Its more complex than that.

Tools to Manage Twitter – Twitter is best managed by 3rd party tools. Which tools are the best, and how to utilize them?

Facebook Strategies – How to utilize Facebook to better connect with your customers.

Case Study: Dell – Dell is a big believer in Social media, making investments early in implementing it across its organization.

Case Study: Audience – We will take time to review an attendee's company social media positioning and give ideas and feedback.

About Michael Michelini, Michael Michelini is an American internet marketing consultant, skilled Social Media and SEO with hootsuite certification and Google adwords certification. Having spent over 4 years in Shenzhen, China, Michael understands the needs and opportunities for Chinese companies looking to build their English Social Media presence.
Just trying to standardize social media consulting…. as China continues to develop its need for marketing knowledge.
I'm a little nervous to be honest…but think this is the correct way to move forward. Right timing, right people, right topic.