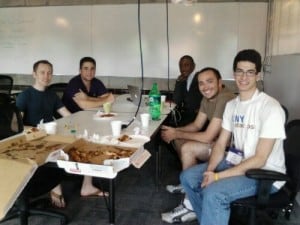 After Julian's wedding I ended up in Hoboken for a few days, meet my Stevens friends and professors, and some business contacts I have made over the years doing online business. Monday morning I was looking for somewhere to work, and after quickly getting frustrated with coffee shops not having wifi, seats, etc I went and google searched "Hoboken Coworking".
It was really funny, as the top news was about Hoboken's first coworking space that just opened a couple weeks ago in mid- august called "Mission Fifty". I emailed them to see if I can drop by, and they were there, with arms wide open saying the coworking office is open 9am to 6pm. I had lunch at Stevens with my friend Jen and then walked over to Mission Fifty.
A bit of a walk from Washington street, it took about 15 minutes to get there, in a new building called the "Hoboken Business Center", the mission fifty coworking office was on the Penthouse (top floor).
A really slick new office is approx 3,000 square feet, with special "phone booth stations" to make private calls, various open working areas, fixed offices, break out rooms, lounge area, and conference room.
But like any coworking space, its not the actual space, its the people inside. Monday afternoon when I entered I met a bunch of startup guys and entrepreneurs….THIS IS WHAT I HAVE BEEN LOOKING FOR. I am realizing my friends from hometown and college are going to continue to grow away from me as I continue to develop business….and they all settle down getting married and working in corporate america…. I need to find like minded business minds and coworking spaces have been the heaven for it.
Met some great guys, like Jimi who is doing web design and marketing. Doug Pierce who is doing SEO auditing and evaluation (very interesting stuff) and the partners of the space are really cool doing startups promoting construction companies online and having regular startup meetings.
Here is some more information Peta there gave me:
Hi Michael

Thanks for coming by and hanging out at Mission 50, it was a pleasure to meet you. We do hope that when are back in the country you will come visit us.

Our goal here at Mission 50 is to create a space where people can come together to conceive ideas, build companies, and produce at a level not possible working from home. Please help us spread the word so we can reach this goal!

We have a few options for you to join us that break down into three categories. All our plans boast super duper fast internet, strong coffee,and phone.com virtual office account.

1. Communal Work Space

Communal Work Space is for those that are looking for a regular work space but don't necessarily need to store items or a dedicated spot. It's
for a freelancer or commuter looking for space for a few hours or a few days but is able to pack it all up at the end of the day.

Access: You can access our communal work space during normal business hours Monday through Friday from 9AM to 6PM.
Pricing: We have two packages.

5 Punch Card – you'll have access to the space 5 times over the month for $99.
10 Punch Card – You'll have access to the space 10 times over the month for $159.
20 Punch Card – You'll gain access to the space 20 times over the month for $319.

2. Dedicated Work Space

Dedicated work space are for those looking for a place to call home on a daily basis. You'll have a lock and key to the office and are able to
run it just like you're own office.

Access: With a dedicated space you'll have access to the space 24/7 with a key fob that allows you access to the building and the elevator.

*Dedicated Desk – You'll receive 2 conference room hours, all for $369
*1 Person Private Office – You'll receive 4 conference room hours, all for $419.
*2 Person Private Office – You'll receive 4 conference room hours, all for $599.
*4 Person Private Office – You'll receive 4 conference room hours, all for $899.

3. Meeting Space

Mission 50 boast two meeting spaces. Either a boardroom with Manhattan views or larger meeting space which can hold up to 20 persons.

Access: Both meeting spaces are available during normal business hours. Gaining access outside of business hours is possible but please call to
schedule.

Boardroom at 1 hours – $49
Boardroom at 4 hours – $169
Boardroom at 8 hours – $299

Also, sign up now and you can save 50% off your first month. Go to https://mission50.cobot.me and click the big red button that says 'Start Coworking at Mission 50'.

Let me know if you have any questions!

—————————-
Peta
50 Harrison Street, Penthouse
Hoboken NJ 07030
P: 201-706-7210
www.missionFifty.com
twitter: @missionfifty
Definitely an awesome place that I wish I could spend more time in…but on the road and