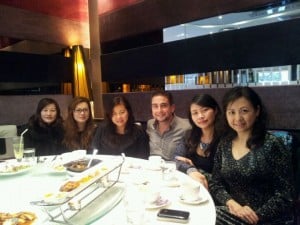 Gotta love the photo with me and all the beautiful Chinese women today at lunch! It got a bunch of feedback on my Chinese weibo, some sarcasm but overall laughter!
As China develops into a larger and larger economy by the day, with upper class families still respecting the Western university over the domestic Chinese college, Western Universities are noticing increased applications and students attending their colleges. I have been in touch with my Chinese friend's sister, Vivien, who Executive Director of Dorset college in Canada for months now, as she prepares for her visit to Southern China.
Even being an American, I wasn't aware of this until I came to China…but Canada has always been more friendly to Chinese immigrants than USA. Actually many foreigners do not like America, or are jealous of it, because it is rather difficult for non-USA passport visa holders to enter the country. Maybe because Canada is easier to enter than America, so many Chinese people always talk about how beautiful Canada is, so clean and fresh, with friendly people. Vancouver, though I have never been, I hear is loaded with Chinese immigrants.
I've met a decent amount of Chinese, specifically Hong Kong and Guangdong province of China, that have attended universities in Canada. I also think south China is more commonly known to send their children overseas for college….if they can afford it.
Chinese save all their money, and they invest heavily into their educations. And then the older children use their savings to send their siblings to college….and its this strange payback/ loan system I still don't fully understand.
But the western universities are doing their best to fully capitalize on this…the rising middle class in China, combined with the importance the Chinese family puts on education – all leads to big money for colleges.
Over lunch today, I spoke with Vivien and gave an informal interview. I'm curious anyway, so may as well share here on my blog.
How many Chinese are in Canadian universities?
Chinese have a good relationship and trust with Canada and universities here, its been built over the generations and we have built quite a Chinese community, both inside the educational systems as well as in the entire community. But sorry, I do not have specific numbers.
What benefits do Chinese get by going to university in Canada?
Comparing to USA, majors such as Law….this is nearly impossible for overseas students to study in America, but is much more attainable in Canada. We also have the established Chinese community to support new Chinese visiting Canada.
And of course, our colleges are respected and known around the world and will help the Chinese student get jobs in Canada, China, and many parts of the world!
Is it hard to get a Student Visa?
We can assist the applying student with a passport visa. Once the passport visa and application is completed, you will get guaranteed placement into the university.
Do the Chinese students normally stay in Canada after graduating university?
Traditionally, the majority of Chinese students have returned to China after college. But recently, we are actively working to retain them in Canada. We have job placement after college, with 3 year post graduate visa…again, comparing this 3 year post-graduate visa to USA – this is unheard of in America….whereas in Canada, we provide this 3 year visa to assist the fresh Chinese university graduate a means to get a job and build a career, and future life in Canada.
So that is some interesting information for me, and I'm sure those Americans reading this blog….I really again and again stress that USA has to be more open to immigrants…especially those coming to build a better life, that are hard working, entrepreneurs.