Less than a week from being released from quarantine, and back on the move.
But to be honest, not able to leave the province (like a US state) so easily due to the quarantine process and health check in each province. So we are sticking to finding and visiting factories in the "neighborhood".
We're lucky to have Wendy's network and Travis, he is a local and has a network of factories here to connect us with. So Saturday April 11 (Yes, I know, on a religious holiday weekend, the hustle never stops) – after some "cheat day" pizza with the kids, Travis picked Wendy and I up from the nearby mall, and we drove about 30 minutes to the factory.
Making hazmat suits. Those hazmat suits I was referring to in the quarantine blogs, now we are starting to sell these. A lot of people have been asking us in the Loadpipe system ( and just in frantic Facebook and social media messages) looking for this product – as well as a ton of others.
So this is the concept, this is the final piece of the puzzle now that I am out of quarantine. Visit the factory, get them onboard for what Loadpipe is as a group buying platform, make a deal – get a price and quantity they can make sure us (all of these factories are really overwhelmed with orders) and then all the certificates, factory check, sample room check, etc. Make this fully clear for Loadpipe group buy community, list it in the platform, put those photos and videos inside the members only closed beta, and offer it up. Host a live webinar (we do 2) and get the supplier (will be Travis) on the webinar, to answer questions on the product and factory, and then close the group buy at the end of the week.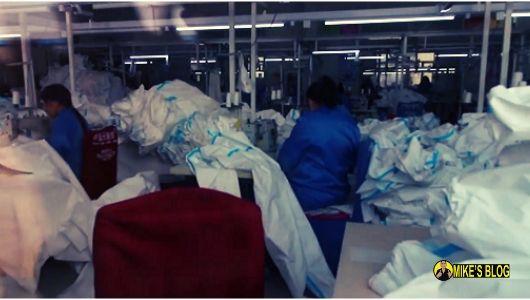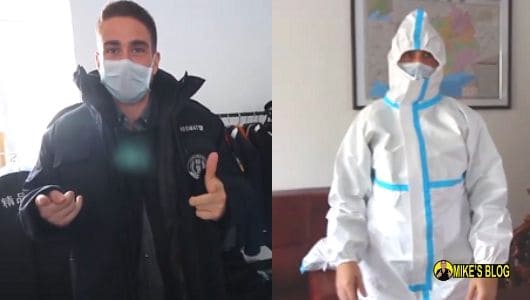 Going through their show room (sample room) we can see they used to make police uniforms. I snuck a quick clip putting on a Chinese SWAT jacket, realizing just how crazy this world has gotten. This factory has 100% focused now on Hazmat suits – but I would say it is still within their core ability to make clothing – just now it is for this COVID19 nightmare.
Maybe after all of this COVID19 pandemic stuff is over, we can do a Loadpipe group buy for Chinese SWAT jackets? Who wants in on that deal?