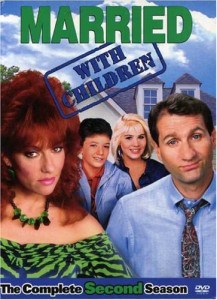 One friend proposing last week. Another announcing a baby coming soon. Good friend in Shenzhen just having his second son. A couple getting married in China. Life keeps on moving forward. Now I understand the perspective of people my age…..this pressure people would tell me when I was a young boy about other friends and piers getting married and having kids, and your pressure to do the same. As well as from parents, grandma, family. But who wants to rush into something and not be happy. Sadly, I know some friends my age that are already married and divorced…. So I prefer to have a later marriage and be happy then to rush something due to pressure or cultural norm, right?
I had to put the picture from one of my favorite TV sitcoms growing up in the 80s – Married with Children!!! Awesome show!
I am truly happy for everyone who is getting married and having kids. Maybe that is another variable in my original decision to remain in America last month…would cross cultural marriage work? Sure I see many doing it now, and as the world develops and "flattens" more and more, it will be easier to do, travel is faster, cultures are more open, and no one else but you and your spouse can make it happen.
But for me, I think most of my friends also know, I have at least a few more years in me of the single life. The traveling, the adventure, the startup mode. Many times we are told to choose business or family. I hope that when I am ready and positioned to be blessed with having my own family, I will have my business in a state that it can be managed and operated independently of myself.
And my friends always tell me you cannot time it, and love and family happen when you least expect it.
Others also say the right "life partner" can help you in your business and professional life by supporting you. I can't really say I believe that, thinking back to high school.
In high school, many of my friends had girlfriends / boyfriends that wanted them to stay in their hometown instead of going away for university. And there are the long distance relationships when you are a freshman in college…..having the evening phone calls daily with your hometown sweetie. How can this help your college and professional career? Maybe this daily call will help you reflect on your day, be a sounding board for problems you are having at school….and moral support for you to achieve your goals. Maybe this blog is replacing (or trying to replace) that sounding board. I always kept a journal, and this "reflectionary" thought process of recording your thoughts, dreams, and travels has helped me grow as a persn.
Then there is the argument that a family man is good for a business….as it shows stability and commitment. I know in China this is true….if I were to "settle down" and get married and have a family here, the community may trust me more and be more open / willing to do business with me. This is because seeing the investment in the family, the local community, the concerns about education, environment for the wife and kids the client or supplier has better confidence this businessman will not just pick up and leave.
Thinking about politics, and watching some TV in the background here….there is that traditional politician speaking with his wife or her husband by their side. And many political campaigns show their family, children, wife, in the community. To show their understanding of people. To say, "hey, I am just like you guys, and I have the same concerns for the community". This is all good marketing. Target market. Understanding your target voters.
But family normally equates to stability. And that is not something I am ready for that the moment, still have a long ways of business development to go.
But hey, maybe I'll take this back next month and make some crazy announcement, because this is what life is, unpredictable.