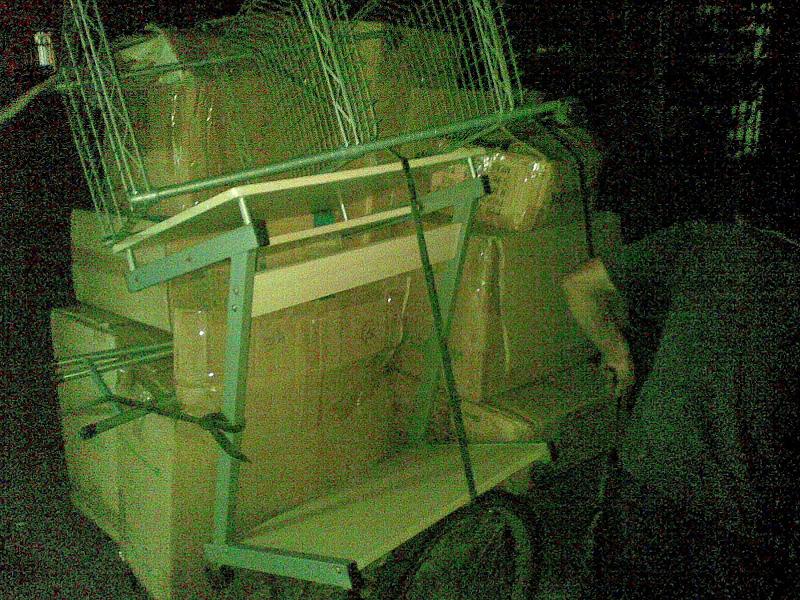 I was hesitating blogging this!!! But at least office-wise, I am out of Shenzhen……i will still be stopping by now and again for meetings and friends. Took a photo last night here, I had a "nong min gong" (farmer who comes to the city to make better money….the hardest working people!) help me move my office things out of the office. I have a smaller office in tiley building so i will store things there. I rented out my office with equipment and all, hope it goes smoothly.
This is going to be a other chapter of my life. Utilizing partners and managers in various cities around the world to get daily things done…
Is this failure? I don't classify it as such, then again I dont think anyone actually FAILS in life, its about learning to adapt, learning what you are good at, what you like to do, and for me, that is not working in a fixed office. Especially with the movement in today's world to digital. There are so many online tools and hardware to help us work as if we were right there.
I have to reset my thinking. Think bigger, think longer term. I just passed moving back to usa and taking a CEO job at a multimillion dollar sales company. ….i have to think what i want in life.
Am i that different from the rest? Im 29 years old, maybe its because im approaching 30!?
Maybe others dont think like me, they are in the daily work/live mindset……and just go about working. ACCEPTING the life that is given to them. I WILL NOT SETTLE.
I am going to USA for 2 months – Sept to Nov – I have to rely on managers and partner offices in China while I'm away. And I realize, life is not about OWNING and CONTROLLING people. Sure, you can hire someone. But can you force them to stay? Its better to let people run things their way, have the steering wheel. I am testing this out with different alliances in China and small operations in Philippines.
Keep on Truckin' – just another chapter of my life – trying to be an independent specialist between USA and China.