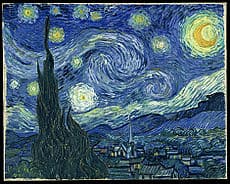 My family has a history of bipolar disorder. When I was younger, I went to a psychiatrist to see if I had signs of bipolar. The doctor said it wasn't likely I had it, and that maybe by my mid-twenties if I didn't have it, then most likely it wouldn't show up. I never was admitted to a hospital for a nervous breakdown, but damn all throughout my life I feel I have come near it. Maybe I don't want to face it. I am scared to think I have it. I ride highs and I crash into lows.
What is Bipolar disorder basically its riding highs and lows, extremely manic excited one time, and then crashing low and depressed the next. My friends who are doctors say I don't have it, and doctors have given me the benefit of the doubt. Maybe I'm not an extreme case, but really I don't know if I am like normal people. I guess I enjoy the creative side of it, Vincent van Gogh, Kurt Cobain had it, running off highs and lows of creativity and destruction.
I remember some of the girls I would date had it, I introduced some to my mom and she told me I shouldn't be attracted to these kinds of girls just because of my family history. Maybe that wasn't why I was attracted to them, I thought I liked the traveling, free spirit "life partner" (well we are talking about one specific girl, but anyway). My mom said I deserved better.
Towards my last year at Deutsche Bank, I went to a couple psychiatrists in new york. One told me how can I be so sad, that I had the greatest life people would die for, working a great paying job on Wall street, living in the city, lots of friends, parties. But I hated waking up each day. One doctor put me on anti-depressants, he eased it over saying don't worry, everyone in New York takes them and he laughed saying new york city should "just put it in the water system". I think it made me gain weight, and some other side effects. It was another reason I had to get out of my job. I thought I would be happier working for myself. I went to California, got off the meds, and de-stressed. I did some china sourcing, and newyorkbarstore.com. Actually I called it "shadstone marketing" but felt no one would pay me to do SEO or marketing, and China sourcing was a more solid business, where I have more control.
Then I scheduled the trip to China a few months later and decided that was where the action was, a new adventure, a new opportunity and I took it. Would make it happen. China is a growing market, I will make it happen.
But I hated dealing with factories, and being a middle man between a factory and a client. I probably hired the wrong people too, and blah blah. Then I switched into SEO through spyble project, to saleslion, then back to newyorkbarstore with some SEO projects. Then questioned why am I in China. Google China was shutdown, facebook blocked, twitter, etc. how can I do English SEO in a country that speaks chinese and is blocking English websites?
Taking over newyorkbarstore and doing English web marketing led me to Philippines, where costs are lower and English language is everywhere – its almost like an extension of America in a way.
But the time zone difference, and the distance from the majority of my clients, both for SEO and newyorkbarstore. I had to make a trip to USA anyway, and Tayan's wedding was a good reason to come back as I was one of the best men, and I hadn't seen friends and family in so long. And I would see how I felt when I returned to usa after two and a half years.
At first I got so excited, all these people, friends, and colleagues I hadn't seen in so long. A few people saying they would do new business with me if I stuck around New york. I saw the mobile and local internet opportunities. And I have been struggling with focus in business….balancing the SEO and the newyorkbarstore things. Maybe if I smash them together, using local NYC SEO / web marketing mixed with bar products, promotions (product promo and event organizing) it would make sense.
Seemed to make sense, I would work with some alliances I have made in New york over the past 6 years doing this bar products, China sourcing, and SEO type projects. Hpoefully get a part time gig at Stevens tech speaking about things. Had a lot of friends offering me sublets, and other local deals. Windows seem to start opening. The more I told people I was sticking around USA, the more opportunities and windows made sense.
But my costs keep on rising…..and this bar products business is spinning out of control….i thought I had a guy to help me ship and receive in New Jersey, but the miscommunication between the sending warehouse upstate and the trucking company made it out to be more pallets then he could fit, forcing me to rent a storage unit and ship myself. I couldn't put the stuff in a cheaper place far away from the city, I didn't have a car. And I thought it would make me one step closer to opening a local store / showroom in new york city. Its only a month to month contract for the storage unit, but I cannot imagine moving it again…took 6-8 hours of hard, manual labor (I am not a guy good with my manual labor, haha). Now my alliances in NY don't seem as strong…or I put too much confidence in things happening quickly….
I have gotten out of the agreement to sublet my friends place in manhattan. He agrees I am not ready, and I cant get into that position yet. But now what, I have "no strings", and my return ticket to China is still set for Nov 11. I haven't made any monumental contracts or sales in New york yet…and its been a month. Sure there is a pipeline, and its only been a month, blah blah. I know I don't have patience.
Then people ask me what I wanna do. I have still been deciding "what I wanna be when I grow up". And this is why I think I have bipolar. I am too quick to get excited, I don't do enough research. I then crash.
So here I am, on a 4 hour bus to Virginia to Tayan's wedding, typing this on my laptop with a nice old lady sleeping next to me….thinking….do I live in NY, NJ? If not in manhattan, sure a cheaper place nearby. Maybe Connecticut. Or florida – near my family. And the weather there is nice. I don't want to be tied to 1 specific location. I want to keep traveling – and internationally travel for sure. Maybe go back to China – but I am a little unsecure there with politics and the stupid GFW blocking every website I use. Maybe Philippines, live on a beach and have a small office of cool staff there. Maybe Thailand. I do want to visit India, and travel to other parts of Asia. But I also want to check out Russia, and south America – maybe go on an African safari too.
Yes…I am crazy, but not sure how crazy or what type of crazy. This is why I blog, because I am alone wandering around this world, and I kind of feel like a fool at this moment. I would love to be a blogger, and author, a speaker, and travel. How to make that a living that could pay enough for me to do that.