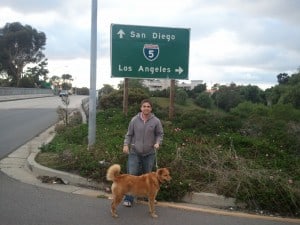 Been an unusual few days so unable to post for a while. Was in Los Angeles with Abiy for a day, then rushed down to San Diego for the weekend. Remembering the same route in San Diego May 2007 when I was just getting here after leaving my day job at Deutsche Bank. That feels a lot longer then a few years ago….so much has happened to me….all over the world….
San Diego was a good choice for me after leaving my NYC back in April 2007….it allowed me to unwind….keep costs low, I remember making the decision to quit my job when:
1) Business was doing ok – the bar products business was paying dividends and because partners there wouldn't let me buy in more, I started another company, Shadstone Sourcing, that would help people buy from China, as I was having trouble doing so for my bar products business.
2) Had built up enough savings – at the time, most of my savings was in an internet savings account paying like 5% interest, those don't seem to exist anymore…but I was pumping as much as I could into that account to save up
3) Year end bonus had came in – Deutsche Bank paid its bonus out in February, not end of december, not a big deal, but a factor in the timing
4) NYC apartment lease was expiring – I always hated those THIS IS YOUR SECOND NOTICE FOR RENEWAL OF THIS APARTMENT LEASE letters coming in the mail…and I was under pressure to renew, move to another apartment, or leave NYC.
5) Piotr in San Diego was looking for a roommate – Piotr quit his job in Connecticut and drove across USA to San Diego, to find a job and start a new life! he had been in San Diego already maybe 1 year, and his roommate had just moved out and was looking for a new one….so…sounded good to me, I paid him cash, month to month, and it was 3 blocks from the beach in Ocean Beach! Perfect transition for me
6) Was getting depressed – As I blogged a couple weeks ago, I was riding an emotional rollercoaster ….but why, people said you have a great, well paying job, on Wall Street at a global bank….you live and work in the city. Why wasn't I happy? I knew I needed change….
7) Wanted to travel more – think another factor why I wasn't happy was I wasn't traveling as much…wasn't adventuring…..I wanted to see the world….meet people, do international business. And my company wasn't offering any of that. I tried to apply to positions within the company that were in Hong Kong, or in Milan, but it seemed too difficult with their inter-company job website….I know some others in the company that also left because it was too hard to travel.
8) MBA wasn't for me – I had been saving my money for 2 reasons / choices, to start my own business, or to go to MBA school and then start my own business. I was attending the KAPLAN prep classes for the GMAT test to get into a top MBA program…and I remember at those night classes going around the room, everyone wanted to get an MBA to get a higher paying JOB! When I said I wanted to get an MBA to network with entrepreneurs and start my own business…I got a lot of confused eyeballs in the classroom…so I decided MBA wasn't for me, I had to learn by experience.
So being here in San Diego again makes me think of that thought process…..that transition…..working so hard….trying to develop my own company…build an international business.
I have been spending a lot of time with Piotr, and now he has since moved out of Ocean Beach, San Diego, and is married to a great woman Stephanie. He has always been a top blog reader here, and supportive of what I do. Have had some talks with him this weekend….reflecting, planning. He is in a similar situation, his family is all in Connecticut, and he is out here in California, will he stay here his whole life? Will I stay in Asia my whole life? Family, friends, etc.
Anyway, its just funny years later I'm back in San Diego….making plans, thinking strategically…hoping to spring myself to the right direction.