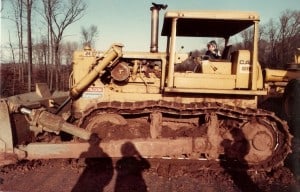 Inside the Chinese warehouse office, the past couple days there has been new road construction right outside….with trucks paving and construction workers taking breaks right outside the gates. I took a walk to get some fresh air from being in the office….in this blog you'll see a quick snapshot I took with my mobile.
Taking that walk, getting that air….and reflecting on where I am, and where I was…..I thought back to my father. He worked for the Connecticut Department of Transportation (DOT) for his whole career, retiring a few years back. I remembered going to some of the various project sites he was involved with, and one specific one in East Hartford, Connecticut, where he put me up on the bulldozer to have my photo taken.

So thinking of this photo when I was walking today, I came back to the office and gave my dad a phone call. I asked him if he remembered these pictures and he quickly said he would dig them up with my mom in the photo albums from the family days and scan it for me.
Getting that email and opening the photos today….it kind of brought a tear to my eye…..
I so clearly remember that day, how happy I was to be boosted up onto this "monster truck" (I loved monster trucks when I was a kid)…..I felt like I was on top of the world! Anything was possible…..I remember being encouraged to think like an engineer….to go on site surveys with my dad and "uncle" Mel (not really uncle, but an awesome guy and one of my dad's best friends). Also waking up early to see the hot air balloons.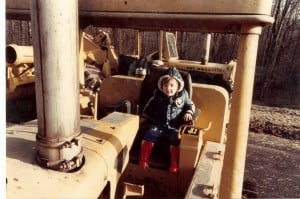 this was 1982. I was 2 years old. I didn't want to have anything get in my way….I would drive that bulldozer my whole life, barreling through whatever got in my way…..me against the world.
And now….this tear came to my eye today….my heart sinks, or skips a beat as I look at these photos…..I'm so far from home….so alone…..in inner China….factory city of Dongguan.
But this is where the CONSTRUCTION IS. I was in USA just a few months ago…and man, I hit pretty much every corner of the country….New York, New England, Florida, California…..Virginia / Maryland……It was exhausting….but I saw what I saw in USA…..and while at first arriving in New York, thinking I would stay permanently again, that New York was still the center of the world……but maybe I was just overly excited…maybe I was just looking for a reason to stay with my friends and family back home……I am told its common to expats in Asia to have this feeling after not being home for so long.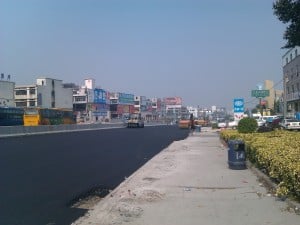 I have to keep up my "fight", my pursuit to bulldoze where there is opportunity to bulldoze. There may be some small bulldozing projects in America right now,….but major construction is here in China, for the foreseeable future.
But yes…it has been quite an emotional rollercoaster, I should know its not going to be easy and normal ride, but this morning I definitely struck a cord.
I'm up for the adventure…..Go big….or………..go home. And going home is no longer an option for me. I have something to prove.