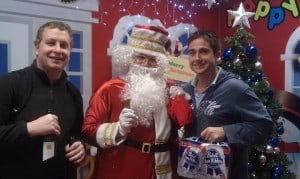 3rd Christmas in China – Christmas 2009 was working mostly, Christmas 2008 at my friends China apartment almost a 4th as I just came back to China end of 2007,spending Christmas in Florida….
This year was a split between Shenzhen, China for Christmas eve, "chilling" at Cheers bar with my friend Marshall, doing some bar hopping in the area…..and then today, Christmas day crossing the Shenzhen border into Hong Kong, with my friend Andy Blahnik and his now wife Rica! Three of us took it easy, grocery shopping in the afternoon and then cooking turkey (still in the oven now!)
Original plans this Christmas was to be in the Philippines, but last minute changes due to quick progress with photograph.com. Getting excited going into 2011, and have to prioritize things…..next year Philippines Christmas for sure.
I am just lucky to have so many great friends, all over the world….and the story, and the future continues as we move into 2011…