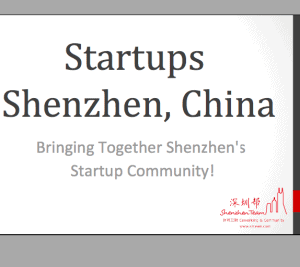 My mom always said I would make a great teacher. But to be honest, a few reasons I didn't feel up for it…..the risk/reward wasn't convincing enough…maybe when I "retire" (well I don't see myself ever retiring, because I don't even feel like I'm working now! I love the game) I will be a teacher. But also, I don't have patience…..but I am getting better at being patient….that is definitely something living in China has taught me over the years…..and my expat friends told me would happen…..China just breaks you down enough that you either get to be more patient or leave. And I stayed (after a rollercoaster decision making process).
But I think this is becoming a pretty cool happy-medium….as I'm teaching….in my own twisted way through blogging and holding meetups, but I'm also in "business", and I'm also getting into all kinds of awesome new ideas and discussions.
Another good friend of mine, Brent, said I should open an idea lab. Well, it seems like this is whats happening…this coworking….meetups…..social media massive connector…..
And I'm happier than ever. So keep the meetups going, as crazy as many people may say I am ….as its not making money now…and thinking back to a blog post in 2007 as my friends Salem said – I am planting the seeds, not eating them and I can only imagine this will pay off big in the long term.
go big or go home
Below is the writeup I made for the next Startup Tuesday, Shenzhen:
After a great turnout from the Fist Startup Tuesday in Shenzhen, we listened to people and feel there is a great desire for a support community and hub for startups….but there were quite a few people who just need some basic understanding of what is a startup, how to get involved in one, and other basics. So we will start a series in the next few meetings going through various phases of a startup and get ideas and input from the community.
Also at this meetup, we will discuss about a startup WEEKEND and discuss when / if there is enough people interested to start it maybe on a weekend in early September.
Topic / Agenda: Answering some basic questions from last week's audience – What is a startup, how is it formed, do I need to register a company, where? How do I find partners?
What: Startups Tuesday, Shenzhen Meetup
For Who: People that are in startups, VC, investors, want to get into a startup, or are just curious
When: Tuesday, Aug 16, 7pm to around 9pm
Where: SZteam.com coworking office, (for directions see below)
Cost: Free
Dress: Casual
For reservations:
email us at info@szteam.com
call us on 0755-86329218
深圳市南山区高新区南区粤兴三道6号南京大学深圳产学研基地大楼B区502号 518057
502 B-Block, Nanjing University Research Center Shenzhen Branch, 6 Gaoxing 3rd Road, High Tech Park South, Nanshan, Shenzhen 518057
NOTE
This building, 南京大学 (Nanjing University), is quite new here, so you cannot find it on the map now, but you can use the name of next door building, such as 中国地质大学产学研基地
by Shenzhen Metro:
Take the Shenzhen Metro to the stop 'Ke Yuan' 科苑 on the Shekou line and get out at exit D, and it's the building on your left.
by Shenzhen Buses:
1. 南山外国语学校高新分部,bus no:109、b606、b608、b682
2. 科苑南路,bus no:109、b682、m208
3. J1 or 364 to 万科东海岸 stop
4. 高新南十一道 bus 72