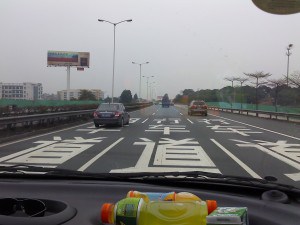 This will be my 3rd time at the Xiamen SEO event, in the 2010 China internet fair I spoke about helping China manufacturers export using the internet and in 2010 (SMX China sponsored) I was able to talk about keyword research, this year I'll be blabbing about English social media (Facebook, twitter optimization), decided to take a roadtrip this year. In the past, I have always flown from Shenzhen.
The trip is about 7 hours by car, and I have 3 companions with me from the five islands ecommerce center, as there is also a Tao Bao (chinese ebay) trade fair at the same expo that they are attending.
I do miss road trips…..as some said to me as I was planning for this roadtrip that the 7 hours is nothing for an American…..Americans drive everywhere all the time, and the country is so big, right?
That is something I have to pretty much agree with, what are the choices in USA? I have explained my horrible bus ride in USA late last year…..America just doesn't have good infrastructure for transportation. Buses are horrible, and scary in America. You can fly, but then you still normally have to drive quite a ways once you arrive in the airport as most cities are so spread out. So then you'll have to rent a car, or pay an expensive taxi.
I lived in San Diego for quite a few months with my good friend Piotr in summer 2007, and I tried so hard to not rent a car, but it really set me back…..whereas in China, I can get around pretty much no problem without a car in most major cities…so many taxi, trains, subways, and BUS network is extensive.
Its been such a long time for a roadtrip, may as well try one along the coast in China….the sites are pretty awesome once you get outside of the densely populated cities in China.