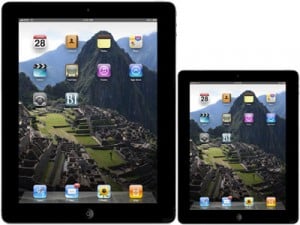 I have been chatting on twitter about the ipad 2 mania. Seriously, even apple is amazed as sales are a million sold in the first weekend. I'm sure iphone factories in Shenzhen are busier then ever, putting extra pressure and overtime work on factory workers. Lets just hope we don't hear news about factory suicides soon, though I am sure the PR and media would never correlate that to pressure to make more ipad 2 in less time.
Some of my friends in Hong Kong were up all night Friday buying off the apple website, to sell the ipad 2 in Hong Kong a week later.
This morning, on my way to Dongguan, Philip mentioned I should have my USA friends buy the ipad2 and sell in China….between the taxes and customs crap…
in Hong Kong, can sell the ipad 2 for 7,000 HKD (around 900usd) for the cheapest ipad 2 model, just wifi model, no 3g!
in China the ipad 2 would be even more, at least 10,000rmb (over 1200usd).
Also the smart cover case, there is a special ipad 2 case that is a hot item…selling on Taobao (Chinese ebay) for a healthy profit as well.
How in the world can the ipad 2, which you can get in USA for $500usd, sell for almost double in Hong Kong and China? WHEN IT IS MADE ON THIS SIDE OF THE WORLD!!! Crazy right.
I still get messages from friends in USA who ask me to buy them cheap electronics in China, thinking the costs in Asia are lower. I have talked about comparing costs in USA and Asia and really, many luxury items are so much cheaper in America…..
Why is the ipad 2 cheaper in USA than China?
I know its crazy, Chinese people actually get upset…heck, I even get upset….but there are a couple reasons:
VOLUME – America is the world consumer…buying up tons of ipads and iphones and other consumer electronics. Therefore the bulk of the goods are sold there first, in large quantities.
Protect Intellectual Property – I think both Americans, and Chinese, can agree, it is still not "safe" to sell in China…..
Taxes – USA has low taxes, with simply sales tax in each state as the main tax (ranging from 6% to 8% from my experience). In China, there is VAT (value added tax) that is about 17% on top of
So basically, this is the thought process of Apple and other big brands – make the big money quick in USA, and then the rest of the world is "Cream" or pure profit. To get the money from USA customers quickly, pay back the upfront investment on marketing and R&D to invest in the iPad 3! Then release to the worldwide international marketplace to "get residual" income for the next 6 months to a year.
But Apple has been getting better at doing business in China, by allowing the iphone and ipad to be sold in the domestic Chinese market faster. Apple now has its own branded stores in China, whereas in the past they were using only resellers. This is also due to the fact that CHINA IS RICH now and not just a country to outsource and manufacture in….its a viable consumer marketplace that is growing rapidly.
So hey, my USA friends, want to make some extra cash buying iPad 2 and shipping to me in Hong Kong? Lets do it!
---
Follow up, next day
My friend in USA emailed me, he didn't want to comment publicly but said I could post on his behalf, interesting to share the true mania for this ipad device, read below:
Hey Mike, funny you speak of this. It is really tough to get an ipad
2 here in the states. I was hoping to get one and it was nuts. They
released it for sale to customers at 5PM friday afternoon. I called
the apple store on my way from work and they couldnt tell me how many
they had, all they could tell me is that the line of people is over
200 and not to even bother showing up. Luckily there is a best buy
nearby too where I went instead. the line here was around 60 people
(and people got in line behind me, some said they came from the apple
store which was 1000 people long according to their estimates) – what
sucked is they only had 55 ipads. they announced it and the 2 guys in
front of me left (i guess i was 58th) so i was next in line hoping
someone would want one that is not avail. and thats what happened. the
guy in front of me wanted a 3G one and all they had was the wifi – so
he left and i got it. then another guy decided he didnt want to wait
any longer (we had to wait 45 minutes after getting the ticket to buy
an ipad) so he turned his ticket in and some lucky lady that showed up
at the right time got it. incredible. so many people left. people
kept coming trying to get in line, but the best buy guy said they were
all out. so then this one guy comes by, it sounded like he was from
western africa and he wanted one too. except he didnt turn away, he
said he needed the ipad for his company. he said he needed to ship it
to china the next day. he looked nice and was polite and was dressed
well, and offered the lady $200 for her ticket (for a 16GB wifi only).
she couldnt believe it and agreed. He came back 15 mins later with
$200 cash. the lady made $200 USD for showing up at the right place
at the right time – incredible.
I got mine and im happy. i ended up with what was left but i got
pretty much what i wanted. (i wanted a 32GB wifi only, i got a 64GB
wifi only) and after the accessories and tax the thing was like $860
USD. incredible. i looked on craigslist today, check it out or ebay,
and people are selling them like crazy!!! but like the commercial
says the first time you use facetime, you smile. I talked to my dad
this weekend and he immediately smiled when he saw my face, and I
smiled when i saw him. its an incredible tool.
but ur right – its all for a purpose. its all hype. Apple on purpose
hyped it up, didnt announce numbers, and only had limited quantities.
thats how they make an item HOT!!! but i think the black market may
be hurting them. imagine that they could be making those 200-300
markups cause people are willing to pay for it – incredible.
but apple is smart – at the apple store, you wait for someone to help
you, you wait while you play with the stuff and as soon as someone is
available, they come up to you, ask you if you have questions. You
talk, ask questions, they help you find stuff, and if you are ready to
purchase, they dont send you to checkout, they actually check you out.
they have iphones with credit card swipers and they check you out
right then and there, and they email you the receipt (or they can
print it) incredible!!!!! so i hope they come up with a better way to
get these ipads to the people, without the scalpers, or the lines. it
shoudl be a lottery or something to get the first one.
in the future im pretty sure they will have to make the line waiting
better, google some of the stories, people are angry they waited in
line for hours and the apple store employees couldnt tell them if they
had enough ipads for everyone or not.
another follow up
Gary just told me – Just drop by wanchai computer, today price for ipad2 16g wifi hkd8500, smart cover hkd850
another email, about 1 year later when the ipad 3 launched
March 16, 2012
Hi Michael,
I read your blog on ipad2. I will be getting qty 10 ipad3, wifi+4G, do you want to do some business? Im in California.
Thanks.
Vincent
another email today, Sunday Mar 17, 2012
Hi Michael,
I came across your blog and information on the iPad in china buying-selling trend, and am interested to find out a little more about what you're looking for in terms of Americans shipping to you. I, myself, purchase iPads and have been selling overseas as well; I'd love to hear from you, and think your site (and full-time business) is quite interesting.
Thanks for your time,
Christina