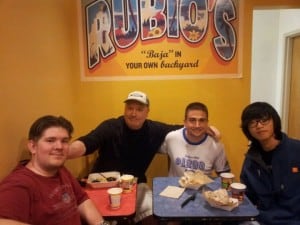 Exciting time in USA! I'm typing this Monday morning (Cali time) in a San Francisco hotel. Attila, reading my news of coming to USA, met me in LA to spend the trip w/ me together all the way from LA to Seattle. I was supposed to fly from LA to Seattle this Wednesday – but Attila has a car and wants to make a roadtrip up the west coast! – so awesome right! So I have had a few people in San Fran I've been talking to here, and Attila wants to see what its all about, so we left Sunday morning from LA, took the PCH (pacific coast highway) all the way up. Yes, the 5 highway would have been faster, but we took the scenic route – stopping by wine county and checking out the beaches up the coast. Well worth the extra time.
Arrived in Fremont about 8pm Sunday night, Holiday Inn express hotel – where Boyd Jones had been staying with his Chinese investor counterparts. They went to see Warren Buffet at his annual shareholder meeting, and now were in Silicon Valley to see potential investments and make connections with investment funds. Boyd had been spending a lot of time being the connector and translating for his Chinese investor colleagues (His Chinese is fluent, really amazing!) Boyd is going to re-locate to Silicon Valley and be a gateway into Silicon Valley for his Chinese investment funds in Shenzhen, China
Exciting stuff, right!
Also, being the social media maniac that I am, I saw my buddy Tony Chen (who I met in a Hong Kong startup Monday event) is working this summer in a startup Ark (Y Combinator backed) – smart dude. And he came up to meet us in the hotel last night. He is really a determined guy and he is going back to UC Berkley after the summer to finish his degree. He has some good knowledge and connections in the Valley and gave me some tips.
Because this is a last minute trip to San Francisco, I don't have time to put together a "China Business Meetup" like in Los Angeles, maybe Tuesday night I'll openly invite a few people out and see what happens.
I've been keeping an evernote note of Silicon Valley things to do and people to see. Contacting a bunch of people over the weekend, and below are some tips that I thought would be fun to share with others too.
Sjors (George) Provoost tips from his San Francisco Trip:

Two very different kinds of coworking spaces in SF:

* PariSoma
* Noisebridge

If you're in Mountainview, check out HackerDojo.

Sign up for startupdigest.com event notifications about two weeks before you leave. Also checkout meetup.com and look for technology.

I'm not sure about hostels; I used AirBnB in the first two weeks (most of it is pretty expensive, but there always a few cheaper options available). After that I got myself an apartment.

If you have time to leave the city and see some nature, check out the Green Tortoise. They're a really laid back tour company, and cheap too, but for just 3 days you probably want to stay in the city.

Buy a Clipper card so you don't have to pay public transport in cash all the time. Most public transport is pretty slow, busses extremely slow. If you want to splurge for transport within the city, checkout Uber (limo taxi you can order by iPhone).

Cheers,

Sjors (George) Provoost
Twitter: @provoost

Tip from Zee Gorman (whom I met in SFO last year)

Yes if you are interested, definitely visit the campuses of Apple, Google, Oracle, eBay . . . Spend a day at Pier 39 and visit "The Rock", Fisherman's Warf, Exploratorium. Another day, the museums (Legend of Honor is my fav), Ocean Beach, Cliff House,… Then perhaps the wine country. I'd be happy to play guide for a day if I'm free.
So its now Monday mid-morning at the hotel in Fremont, of San Francisco area in California. Trying to make a plan w/ Attila on making the most of these 2 days. Will try to see coworking spaces, Ahmed from Startupweekend, and hopefully some incubators to get ideas for a possible Shenzhen incubator!
Again, this is a last minute stop in San Fran – trying to make the most of it, hope to come back more often between China …to bridge entrepreneurs and businesses more and more!