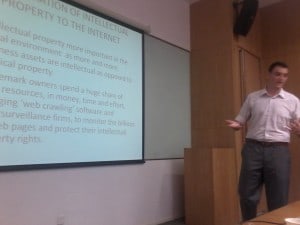 I really got cool off on all these events…getting exhausted and probably will burn out! But its basically the rapid development of SZteam, with demand for weekly startup meetings, combined with the original ecommerce monthly meetings that have been organized each month.
This month's meetup was themed around law, specifically Chinese IP protection for small businesses and ecommerce. We had the following 2 speakers who are experts in law, China, manufacturing, patents, copyright – all that fun stuff!
Matthew Kowalak, Partner of Southern Perspective Shenzhen (http://www.southernperspectivesz.com), a consulting firm that combines the manufacturing process with the complex Chinese legal system.
Yubo Zhou, President of Unino IP Consulting (uninno.com), an expert in IP industry. Yubo has been studied and lived in the U.S for years before coming back to China
As usual, we went around the room stating name, what industry you are in, and where your hometown is. And this time, due to popular demand, I made a list of attendees:
Mike Michelini – event organizer
Matt Kowalak – first speaker today
Marilyn – selling apple accessory products
Daven – SOHO selling italian fashion to italy
Vinnie – working at DHgate
Kathy – lawyer in Shenzhen 25 years
Katherine – working at skyworth, doing supply chain IT, volunteer for these ecommerce meetups
Patrick – 1 week back to sZ, from san fransisco looking for startup opportunity
a student from HK (didn't get his name…)
Bruce – investor, looking at investing in European ecommerce business
Kingdee rep
Ella – in car electronics (tvs, audio), volunteer for these ecommerce meetups
Bones – from Guangxi has online stores selling electronics and fashion clothing.
Ben – first time at meeting, sell LED, and scarf, mostly to indonesia, middle east
Andy- works in japenese, expand friends, listen to speakers
Luigi – 1 year in SZ, italian, social biz betwee china/japan/italy
Kawai – GPS, product manager for 2.0 websites, mobile apps
Kathy – Hunan province, sz 2004, lawyer, before foxconn
Minji – Shanghainese, living/working in HK, new idea for travel industry. Looking for technical partner
Elvin – Anhui province, 2005 to SZ, works for Shenzhen Airline, sister is Minji.
Jeff – toy designer from Canada
Rafael – brazilian entrepreneur
Natasha – working on an ecommerce book.
Stella – selling health goods online.
Kris – does fashion design, spent time in Milan, Italy
---
And here is my quick outline and notes from the speakers:
Intellectual property on the internet, what law has to do with this.
Matt K.
Business and commerce is moving faster than the law.
copyright – does it specifically say its trademarked in the internet?
ISP lawsuit
Linking Liability
deep linking
Fair use – ticketmaster vs. tickets.com
meta tags – using copyright in hidden code
What matt does:
ADR – alternative dispute resolution – helping people settle cases out of court.
mediation
arbitration – to avoid court.
questions:
limewire
poem
link to fake products, taken down
chinabodyshop.com
google adwords
---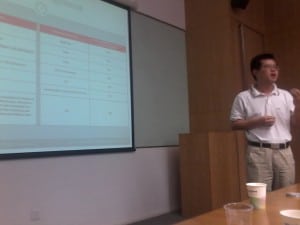 2nd speaker:
Yubo Zhou
Planning your IP portfolio
Uninno IP Consulting Co. Ltd.
help company manage IP to gain business advantages
electrical engineer in National Seminconductor
patent lawyer in Foxconn
What is IP – term referring to a number of distinct types of creations of the mind for
which exclusive rights are recognized. patents, trademarks, copyrights, trade/commerce secrets
Claims of a patent:
published document by the government
fighting "bad" patents
whats a bad patent? They dont think the patent should be there in the first place, under which conditions should the patent be there in the first place?
in USA its first time of invention
in China its first to file
example – semiconductor patent in EU vs semiconductor patent in Japan.
Lawsuits back and forth.
Get your IP protected wisely!
1) landscaping, whats out there
2) mining – whats valuable?
3) extraction – what to disclose and what to claim?
4) filing and prosecution
5) maintenance and refinement – how to keep it alive and even better
don't let your IP sleep….
IP transactions, things to consider when buying:
1) evaluation – can it be invalidated?
2) legal perspective – is it signed off by the correct person?
3) technology perspective – is it long term technology?
4) business perspective – from management point of view, is it going to give you an advantage
5) strategy perspective
My favorite part of his presentation was the end remarks, which I best outlined as:
getting a patent is like getting a gun…but entering China, you are in a room of guns, some are in the light, some are in dark corners. Getting a patent is good, but its simply 1 gun versus many, rather than no gun at all!
It was an exciting event, maybe a little "Deep" in context for some of the attendees…we had to switch the event from last Saturday (due to national holiday yesterday, last Saturday was a working day for offices), and I am annoyed updating the date on all the event sites and word of mouth – plus this was a 3 day weekend and a few regular members are on holiday.
But we are definitely getting a good core group of regulars, which is the most exciting part of all.