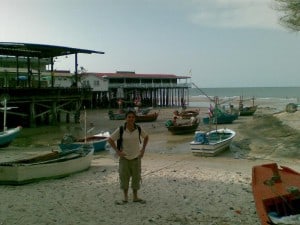 Sitting down at a coffee shop in bangkok, thailand now, my last country until I'm back in China (well, I have the Canton Fair in Guangzhou before home, technically) and man, what a trip this has been, spent a bit more then I expected, but I pretty much got done what I thought I would get done. I was able to visit factories in Ningbo, China discuss things, got up to Shanghai and saw friends and met new business opportunities and product lines for direct sales, got to Xiamen for the Chinese internet fair, made it to Philippines to meet Marie and go over some training for her job, and now to Thailand to visit some factories here and meet up with Dustin and his colleagues about internet packages to sell. And to add to that, had some operational, techinal, and communication issues in the daily business along the way.
Very exhausting trip, but I have grown as a person and as a businessman by far, more quickly in this 1 month trip then I would if I had sat in my office, right? That is what its about, growing, developing = meeting and cooperating.
What is my takeaway from this? I definitely see China is getting more expensive…..which is bad for the export industry there, but good for domestic / import business. Not sure if its my perspective now, or if its really true, but the WORLD IS SO GLOBAL NOW! Everything is online, and if it weren't for certain country's governments (ie China , and some middle eastern) blocking certain websites…..people can communicate and see how others live their lives. Its not just social media, but its just that everything is ONLINE, and banking, and the english language expanding, is allowing people in countries everywhere to communicate with ease! Products, labor, currencies (US dollar), and services are decreasing in more developed countries (USA, Europe) due to oversupply and high unemployment – and on the other side of the globe, the prices of these are INCREASING. THE WORLD IS BECOMING FLAT – faster and more rapidly then ever I have witnessed.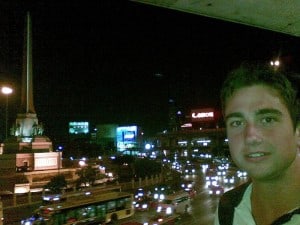 One factory owner and I discussed exactly that, and wondered if I am worried about this, seeing I may become a middle man and consumers would one day buy from a factory directly instead of a retailer or service provider…..but I think its MARKETING that will save people. Sales and marketing, but also positioning. Being aware of this continuing trend, and moving your supply chain in the correct position.
When I left my hotel this morning, I asked the owner (it's a small hotel, mom and pop – how I like it), I asked him how to open a Thai company. He said its really easy, but a local Thai has to be 50% owner (so it's a joint venture) but then I wonder what are the import taxes here if I am to buy from China or India and consolidate in Thailand. He said even if its just for exporting its ok, as you can save on taxes, etc etc. He got really excited and wants to have me meet some of his friends tonight to discuss more….
Actually, I'm wondering about product distribution….maybe Hong Kong, or Singapore? How to consolidate all these countries products. I met a Singapore bar owner when I was in Philippines, his family is from india (mind blowing to me, I'm in the philippines, on a small boat to an island, meet an Indian bar owner who lives in Singapore currently traveling in Philippines, ok anyway) and he is opening a new bar in Singapore. He goes to Guangzhou (china) markets when he opens a bar to get direct pricing on furniture, supplies etc. We were talking and he said I should consider selling in Singapore…aiya….

But I have heard Singapore is very easy to open and welcome to foreign investment, easy to open a company, friendly tax structure. I wonder if the import duties are high, coming from all over the world into singapore, and then selling / shipping from there.
What a crazy world….its a rat-race to stay ahead. But also, you don't want to spread too thin (I have to admit, I have made that mistake wayyyyyy too many times) So I have to stay focused – but really my focus is still the internet by selling online. Maybe that is too broad, but I love the industry – AND I LOVE INTERNATIONAL business. Domestic (1 country) is not sloppy and crazy enough, I like the craziness and risk of the international side!