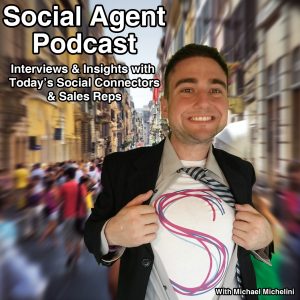 I've definitely learned to step outside of blogging and getting more into audio and video. Those following me saw I launched a podcast Global From Asia back in the end of October and the results have been great! And for Social Agent, my startup, I have been doing youtube interviews but wasn't convinced on a topic for podcast.
But after months doing Global From Asia, I am convinced it is more powerful than video. I think getting into someone's earbuds is extremely bonding more than video or written blogs. And I think its worth it for me to invest more time and energy into it. I have to be honest, when I first started the podcast in October, I wasn't sure how many people would listen or connect, but I'm blown away now!
So I hope to do the same for my startup Social Agent .me and start this new podcast.
The first episode is already in iTunes! and I have a few others almost ready to go!
So what will the Podcast for Social Agent be about
I plan to target more the sales agents than the business owners. For those not sure what I actually do for a living, Social Agent is a marketplace to connect sales agents to companies around the world via our mobile app (Iphone and android) as well as web.
Businesses totally get it and love it, but I am working hard on getting more agents, so this podcast will focus on them.
Topics will be about:
What is sales, and social connecting?
Experiences with actual sales reps using the system
Business owners and what they like to see in agents
Meet the team at Social Agent, interviews with people behind the scenes
how to be a better social connector
This is what I plan to start with, and like everything I do, listen to everyone's feedback and keep on improving and growing.
I have learned that in a startup that is a generally new space and people don't understand it- you have to try so many different angles and positions and repeat, and simplify and build awareness and trust!
So there you go, those who love listening to podcasts, would love you to tune in and hear what its all about!
Subscribe to the new Podcast!
It was approved in iTunes in less than a day, much faster than I was expecting! Please show your support and subscribe and listen here:
On iTunes: https://itunes.apple.com/hk/podcast/social-agent-podcast/id875787627
On our website: SocialAgent.me/podcast
If you're a connector, referring master, mavern, agent of all trades, or an experienced sales rep – I'd love to get you on the show! It doesn't have to be people who are using Social Agent – I am open to any relevant interviews around the space of social selling, being a connector guru, sales tactics, and even some marketing techniques to help build up a sales funnel for an individual or business
Thanks everyone, and stay motivated out there! Keep trying new ways to build content for various industries – and I have to say, I am pleasantly surprised with the reach and connections you can make doing podcasts!