We Launched a New Amazon FBA Acquisitions Podcast
So this is finally happening! About 2 months ago, I got onboard Alpha Rock Capital, a digital acquisitions firm and good things have been happening since.
We just launched our very first podcast and brace yourselves for more!
Check the podcast in Alpha Rock Capital's podcast section on the website here or search for it on itunes!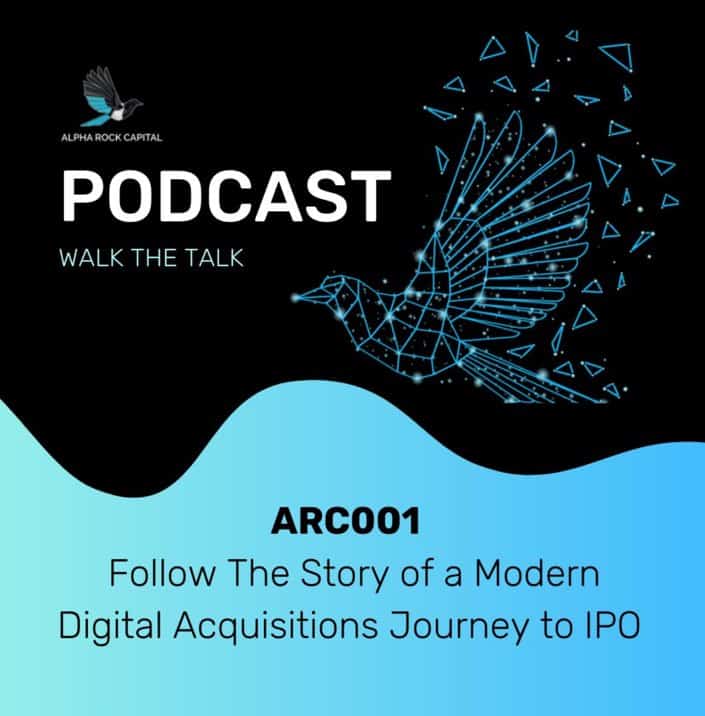 Getting Great Feedback Already!
Some amazing feedback on Facebook
Damon Barnhurst
Damon Barnhurst Michael Michelini sounds like more people are buying existing Amazon businesses. Is this mostly successful Amazon businesses buying from smaller businesses with there knowledge making them bigger? Are there very many that buy as multiple partnerships?
1
Delete or hide this
Like
· Reply · 13h
Michael Michelini
Michael Michelini Damon Barnhurst the last few years the idea of buying and selling Amazon only businesses has been growing – as it is quite "portable" and defensible (belief is it is harder to rank new products and listings are property) – so more brokers hepling buy/sell these biz. As for funds like what we are doing it is still a bit new, but there are professional buyers who manage amazon and buy multple – yet most buy, and sell (flip) and buy/build again
1
Edit or delete this
Like
· Reply · 13h
Damon Barnhurst
Damon Barnhurst Michael Michelini I listened to your postcast. I'm interested in this from a kula perspective. If kula found products with an online presence our community could push it even further. I'm excite to learn more. I'm also personally interested and perhaps there is a way for me to be involved.
1
Delete or hide this
Like
· Reply · 13h · Edited
Michael Michelini
Michael Michelini Damon Barnhurst true, i do think there is a synergy here – we have a growing amount of brands in the portfolio and can work something out – Marc Roca and I should do a call – we will be at Cross Border Summit in Guangzhou and on the road a bit
Edit or delete this
Like
· Reply · 11h
Michael Michelini
Write a reply…
Wayne RichardActive Now
Wayne Richard Congrats on the launch @ Michael Michelini
1
Delete or hide this
Like
· Reply · 21h
Michael Michelini
Michael Michelini thanks Wayne!
Edit or delete this
Like
· Reply · 19h
Peter Luxenburg
Peter Luxenburg Cool and Congrats Michael and Marc! Will be exciting to follow ????
2
Delete or hide this
Like
· Reply · 18h
Michael Michelini
Michael Michelini thanks Peter Luxenburg been nice to been in communication last few months, look forward to more synergies
1
Edit or delete this
Like
· Reply · 13h
Marc Roca
Marc Roca Thanks Peter Luxenburg
2
Delete or hide this
Like
· Reply · 9h
Carel van Apeldoorn
Carel van Apeldoorn Congrats Michael Michelini . Looking forward to hearing more of your podcasts. Let me know if there is anything I can help you with!
1
Delete or hide this
Like
· Reply · 17h
Michael Michelini
Michael Michelini cheers Carel van Apeldoorn and happy belated birthday 😉 wish we could meet in GZ – but hope to see u in Shanghai soon
1
Edit or delete this
Like
· Reply · 16h
Dom Wells
Dom Wells Sweet when are we doing an interview
2
Delete or hide this
Like
· Reply · 16h
Michael Michelini
Michael Michelini lets do it – bkk? or after the insanity haha
1
Edit or delete this
Like
· Reply · 16h
Dom Wells
Dom Wells Michael Michelini am open to doing it in BKK but realistically it might not happen!
1
Delete or hide this
Like
· Reply · 16h
View 1 more reply
Alimatar Alli Garangan II
Alimatar Alli Garangan II Cool
1
Delete or hide this
Like
· Reply · 15h
Michael Michelini
Michael Michelini
????️????️
1
Edit or delete this
Like
· Reply · 15h
Michael Michelini
Write a reply…
Kevin Shee
Kevin Shee Sally Chue my friend that buys amazon biz
1
Delete or hide this
Like
· Reply · 14h
Michael Michelini
Michael Michelini replied
·
3 Replies
Damon Barnhurst
Damon Barnhurst I have a few startup business owners who you may want to meet
1
Delete or hide this
Like
· Reply · 13h
Michael Michelini
Michael Michelini replied
·
1 Reply
Damon Barnhurst
Damon Barnhurst Neil Russell William Fitzpatrick you might be interested in this topic and these podcasts.
2
Delete or hide this
Like
· Reply · 12h
Michael Michelini
Michael Michelini replied
·
3 Replies
56 mins
Gregory James Elfrink
Gregory James Elfrink Love to be on it ????
1
Delete or hide this
Like
· Reply · 8h
Michael Michelini
Michael Michelini replied
·
1 Reply
56 mins
Brent Zahradnik
Brent Zahradnik Yehhh alright!
1
Delete or hide this