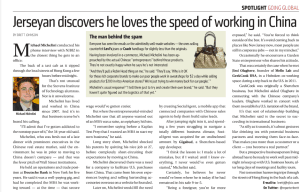 I'm really excited to share that I was featured in a recent article in NJBiz magazine December edition (web link here) for my love of working in China.
Have been getting a bunch of people, both those I knew already and those who learned about me for the first time after they read this magazine. It is widely distributed in the NJ/NY region. I got a nice email from my New Jersey accountant Joe Rosenberg as he read it and was happy to see that I am doing well in China. He helped me a lot during the good (and bad) times in my first e-commerce business, thanks Joe!
And another awesome person who found me online and reached out:
Hi Michael, I just read the nice write-up about you from the December NJBIZ magazine. Growing up in family business, I appreciate the risks you took to pursue the life you wanted. I would love to meet you over a coffee or drink when you are back in the area. Congrats, keep it up! – Eddie
Just saw the article on you in NJB. We think alike, – Timothy
Thanks to the reporter Brett Johnson who was able to do the interview while I was in the backseat of a taxi, life has been totally non-stop with my recent merging of my company with another and being a father – barely get any free or quiet time to myself.
I wanted to announce this article when it came out in December, but it was in print format only for quite some time. Recently Brett shared it on twitter and I then saw it was available for web distribution.
Hope you guys enjoy, there is a section about "the man behind the spam" – and I think you will all realize that isn't me behind the spam but instead some of the people I have met in the SEO and e-commerce world here in China. Just trying to give some perspective of what I have witnessed as a foreigner deep in internet marketing while living and working in China.
I love the fast lane, and being places other have not yet been or experienced. And that will get even deeper now that I am a father and I am learning more and more Chinese each day.
So I'd love it if you read over the article on NJbiz and give me your feedback below or elsewhere. Hopefully it can spark some inspiration for you too!
Jia you (add oil)