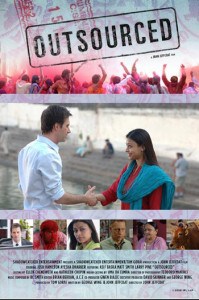 Spending my saturday evening in Philippines watching the movie "outsourced" and it is really hitting home. While I have never been to India, I am actually upset, when I was at Deutsche Bank, I PASSED UP THE OPPORTUNITY!! I was on the trading floor in New York, and my manager came up and asked if I would want to travel to india to train the back office support staff how to better service the trading floor team. Everyone laughed…..I was considering it…but I resisted as I heard I had to get all kinds of crazy vaccine shots (in the belly button!) – as well as I thought it was better I stayed in New York and grew my experience there.
EVERYONE hated India outsourcing. I was just starting in 2002 – 2003 and whole departments in New York were being evaporated…..the american workers would have to train the indians who were visiting New York / New Jersey to learn their jobs.
I, a new hire in the graduate training program, was always assured that my job was SAFE….that my job was to manage the outsourced team, to facilitate clear communication between the trading floor department and the back office in India. I remember seeing the 40 to 50 year old workers there scared as hell that their department was next. I was working in middle office, so I was between the sales and trading floor and the midtown office that handled the stock and bond settlement area.
There were also my friends in the IT department that had already learned how to manage their India outsourced team. The American IT graduate, just out of college, was managing a team of India programmers on developing trading platforms for financial markets.
Definitely an experience…..scary one. Realizing that we have to always be on top of our "game" in this world. Be aware of the trends in an industry, in business, and position ourselves to maintain our value.
So back to tonight's movie – "outsourced" its about an american call center manager who is told his American call center staff is outsourced to India – and he has to go there to train and manage it until its under control!
I feel a bit in his shoes now, while I am in the Philippines, I am also training and organizing the team here to better organize and manage the flow of systems. And its culture. ON BOTH SIDES. Not just the workers in India (or Philippines) to know the American culture, but also for the management of that company to understand and respect the cultures of the country their call center is in!
Again, I am a big believe in "the world is flat" theory. In the Philippines especially, the English is almost perfect, they are very kind and gentle people (almost too gentle….as I am a "rougher" american with little patience) and they ARE HUNGRY to work. They want opportunity, they want a job, and they want to learn and grow!
I just wonder how this world will be in another 50 to 100 years. As people all around the world better understand and respect each others cultures. As technology and global communication continues to improve…..I am continually amazed by the technologies out there to better manage "virtual offices" from time management, data management, password management – it is getting easier and easier to have "the world as your office"
But we have to first understand and respect cultures from all parts of the world. Be open minded, try new things….