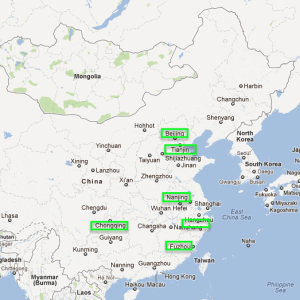 Bet that heading caught your attention. Yes, I just can't get the travel bug out of me. And 2012 will be almost all China (although I did just book a trip to Philippines in mid feb). As part of my newest venture in opening up a Chinese ecommerce group to the West, I am going to be promoting and communicating their events in China to the English speaking world.
QUESTION!!!! We are still working out the details on how to best connect Chinese and English languages in these events. Currently the events are completely in Chinese, and I have been the only foreigner in the whole event (yes, I cannot understand much, but the networking is amazing!) We are thinking about simultaneous translation (headsets), or a live translator. Or having the powerpoint presentations translated to both English and Chinese…. This will continue to be a question that needs to be addressed, and I am open to suggestions.
I am really excited to INTERVIEW these Chinese ecommerce businessmen….I was able to a top eBay China seller in the end of November… but I think this is even better if video taped, and it on my much delayed podcast that I have had people asking me for again and again…
Below is the agenda, maybe some of you guys can catch up with me in any of these below cities: Nanjing, Tianjin, Yiwu, Beijing, Chongqing, Fuzhou:
Hero Meets Hero Meeting plans for 2012

• 1.Roundtable meeting (medium sized meetings)
Attendance is by invitation only and will be limited to 100 ~ 200 individuals

There are 6 Hero Meets Hero Roundtable meetings in 2012 and will hold one every 2 months in one of below 8 places:

• Nanjing Jiangsu Province: Feb 11th to Feb 12, 2012

Topic: Supply Chain training and communication of international retailers in e-commerce

• Tianjin: March 10 – 11, 2012
Topic : Talents and training of foreign trade e-commerce and foreign trade e-commerce entrepreneurs development of Tianjin

• Yiwu, Zhejiang Province: May 12 – 13, 2012
The e-commerce development of Zhejiang Yiwu Small Commodities and a tour of the markets

• Beijing: July 14 – July 15, 2012
Topic: How to cooperate with foreign trade platforms companies to make a win-win business?

• Chongqing : Sept 15 – 16, 2012
Topic: See a gallery of DinoDirect's hits and misses.

• Fuzhou Fujian Province, Nov 10-11, 2012
Topic: How to build a Website brand?

• 2. Annual Meeting
One annual meeting one year, 2012 FTF annual meeting will be held from Oct. 20th to Oct. 21st
Shenzhen: 2012-10-20 to 2012-10-21
Topic:FTF 2nd Annual Meeting
Membership is by invitation only and will be limited to about 1000 individuals

• 3 "Business Life" (small salon seminars)
"Business Life" will be held in every two weeks and there 25 such meetings in 2012.
Topics and places are different.
Membership is by invitation only and will be limited to about 10 to 50 individuals.
So I gotta get past my shyness for the camera and my voiceovers, and represent this group to the English speaking world! Its amazing to see how large these events are, and not a single foreigner knows they even exist!