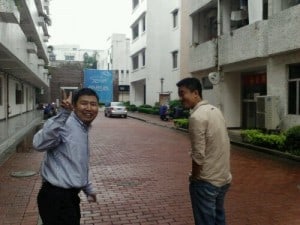 Today I took a trip up to Da Lang district of Dongguan to visit my friend David Zhang (aka @digitalboy) from geekcook. They setup my own desk set aside and encouraged to work here as often as I like. I was going to take Doug and others interested for the day and overnight trip, but thought first let me establish relationships and understandings more before I bring a busload of foreigners over!!!
Talking to digitalboy, its no problem to bring more Shenzhen startup friends who are interested to see the workshop, and that next month they will open a new designer showroom and office nearby so its better to wait until then.
While at the industrial park, David took me around other next door office neighbors. So many small factories and IT companies all nestled together in this industrial park. The government supports this industrial park, helping these budding small and medium sized businesses get to the next level.
After arriving at his office for a while, David walked me around to his neighbors to discuss potential cooperation.
Walking into a CNC machine factory owner's corner office, with his large wood Chinese style desk, all I can think to myself – just like every time I meet a Chinese factory….
"hey, a white guy, he can introduce me customers".
But being the easy going, nice guy that I am (cough cough), I listened with interest to the factory owner's eagerness for a foreigner to sell his products to USA and the Western world. He had not yet gotten a customer in America, and explained his big competitors who are selling tons of products to USA, he explained his quality and service was superior and if only he could get a chance to sell to an American buyer he would prove it.
After some cigarette exchanges (somehow I still don't smoke here!) and drinking of tea – Leo and David took me to another neighbor:
Another foreigner, living and working in Dongguan. I didn't get his name, he was Belgium guy making exotic eyeglasses with cowhorn material. Buys the CNC machines from the neighbor Leo, and explained that when he bought the machines, he asked if there was any available office space nearby – and thats the story on how he moved here. They explained how these exotic cow horn glasses were sold for a very high price in Europe, and the Chinese cannot understand how/who would pay such a high price (something like the mid hundred euros for 1 pair)
Also visited a patent holder of a PCB board that does not need a cooling fan. He was showing me his new board and explained it doesn't need a fan. Had some tea and moved on rather quickly.
So many other offices here in the industrial park.
Its a similiar idea as coworking and group collaboration, and I think in China this has existed for quite some time. Family businesses working closely together helping each other, acting sometimes as 1 company when in fact there are networks of various independent family and friend business networks.