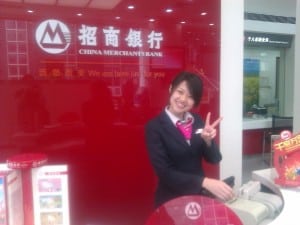 No, I am not being sarcastic. And no, I did not receive any bribe or Red Envelopes or endorsements to say good things about a Chinese state operated bank!
I was an idiot, when I was paying my Dave Ho monthly rent, I turned back to pass him the cash and walked away from the ATM! In China, the card comes out after the money, and you need to press "confirmed I received the cash, please exit". Stupid me!!
And I didn't even realize it until about an hour later yesterday morning (yes, life has been this crazy). Rushing back to the bank, in my broken and limited Chinese I tried to explain (mostly with hand motions to the security guard) that I left my card when I left the ATM.
I found a nice woman working there (in the main blog photo here, of course giving the peace sign!) and she helped me – I had my passports (yes BOTH my passports, as I have an expired / damaged passport that I registered the bank account with, and a new passport) and they had a bit of trouble finding my account number without my knowing my account number…I was calling anyone I could think of that has sent money to my bank account to pass me the number (yes, I know I should keep my account numbers written down someplace…)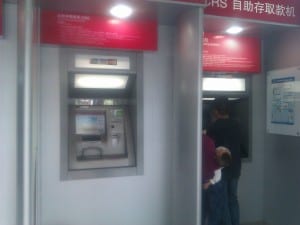 Finally the bank teller could find my bank account and saw that the card was captured…which I think is the best option – so they had the card in their back office. Unfortunately I could not get the card until the next business day. I was told to come back the next morning (today) and pick it up.
I was planning to go to Hong Kong bright and early for a couple days, and not having my Chinese bank card, while not the biggest deal since I will be in Hong Kong (for those of you aware, its a different banking and financial system – currency, etc) I was still paranoid not having physical possession of my bank card. So I decided to go to China Merchants Bank first thing in the morning.
Buying my Chinese breakfast (a couple tea eggs and milk yogurt thingie) I entered the bank. The bank admin remembered me and my problem, and helped me get my ticket number to wait for the next available teller. Eating my breakfast, my number was quickly called and the teller received my passports to look up my account.
Rather quickly (I know, I am still in shock!) she wrote down my bank account number and told me to go to the VIP section to wait for my card to be printed out. Grabbing an instant coffee (had to dig in the lower cabinets to find the coffee…all I could see on the counter was tea!) I sat in the plush chairs, popped out my Mac Air, glanced at some Chinese financial news on TV, and sipped on my instant coffee.
Its the simple things in life.
Quicker than expected, I was called up to a VIP booth and signed a couple documents and was given back the original ATM bank card I had used in the past. I was still rather shocked, caffeine was kicking in, and I didn't want to disrupt the blessing I had received from above that day…and just took my card, smiled and left.
Is this the new China, or have I been here too long?
I just remember complaining all the time…seriously I was thinking I would have to close my account, open a new account, wait 2 weeks, sign a million papers…..
Or ….maybe I am getting used to living here….
But either way, today's experience was worth blogging about!