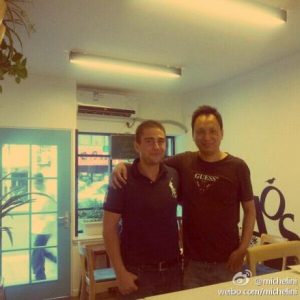 Amazing Tuesday both working and "touring" the various coworking spaces and hackerspaces I've been craving to visit for years while down in South China! So Tuesday was my fully dedicated day to cram as much of it in as I could!
First started at Xin Dan Wei shanghai coworking space, the founder / CEO, Liu Yan has been always supportive of my efforts for Shenzhen coworking and the startup community there and it was the first place on my list of places to visit in Shanghai! Really a sweet place, multiple level shared office space in the French district of downtown Shanghai. First floor is a cafe and then up the wood stairs you have all kinds of nooks and canines of work areas, both for "Fixed deskers" (permanent monthly renters) and hot desks (flexible workers).
Again, I witnessed THE POWER of coworking. I immediately sat next to Sacha from techyizu that organizes startup meetups in Shanghai. He is also in web development and marketing so we had a lot of common topics to discuss. He also saw some potential connections for me in the new Chinese social media packages I'm recently working on.
After working and networking at Xin Dan Wei for a few hours, I then rushed over to see my friend Jeremy, a mentor at Startup Weekends in Shanghai and Hangzhou, and visit his new organic coffee shop – Bolaven cafe – his friend when he was in Hong Kong started up a chain of organic coffee shops from his home country of Laos, so Jeremy is helping him open one in Shanghai and develop the expansion plan here in Shanghai for this coffee shop chain.
Jeremy also gave me advice on the training I'm doing on social media. Believes this is a big opportunity as Chinese need to learn more about the international market and branding. Think I should develop a training school. Others have also suggested to make an online training series with Chinese subtitles. I like this kind of discussion.
Later in our talk, Jeremy mentioned to me that the Shanghai hackerspace, Xin Che Jian was only 2 block walk away so we both headed over there.
Xin Che Jian is an awesome space, they also have 2 other companies sharing the floor with them – and similar to Chai Huo hackerspace in Shenzhen, there are all sorts of hardware tools for product developers and hackers.
Again, the power of coworking and hackerspaces, he introduced me to Rand, founder of Resonance China, a Chinese social media marketing agency. Dude was awesome and he has had a lot of success working with foreign brands entering the chinese market via social media and branding. He gave me a lot of confidence on the Shanghai market, and we hopefully will meet more the next few days and talk about cooperating. Totally cool, again I love the social workplace – exponentially powerful.
Bumped into one of the founders of Xin Che Jian, Ricky Adams Ng, whose birthday it actually was! We caught up on the hackerspace environment in Shanghai vs Shenzhen. He mentioned a meet up He also was just down in Shenzhen the week before, doing a lot of product development.
Later Ricky and I walked all the way (40 minutes) to an awesome place Tian Zi Fang, and some awesome snack shops. Really fun, and exhausting day in Shanghai and gave me a lot of energy and renewed passion for entrepreneurship in China overall. Theres a ton of energy here in Shanghai!