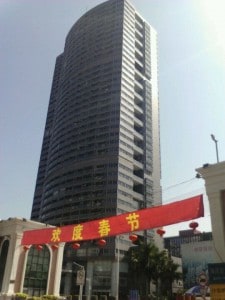 Seriously feeling like a real estate agent lately…but I am in cross fires getting both people who want to utilize coworking space, and office owners who have space they want to utilize.
My buddies in Hong Kong, Felix Lam and Jon Buford, introduced me to a company in Futian district of Shenzhen who is interested in converting their office into a coworking / incubator office, as they will be growing out of it moving into a bigger office about 5 minute walk down the road.
Honestly, I was a bit hesitant to go there, as (selfishly) it is about 1 hour (sometimes more) away from where I'm currently living and working in Nanshan district. This is the major problem with Shenzhen, ITS SO WIDE!….and not only is it wide, the populations are also so spread out….. whereas in the majority of cities I know of, they have downtown and the residential areas, and clear spots in one's mind where the majority of people would want to rent. We have Shekou, where we looked at a 2nd floor of a cafe, and I am still really liking the idea of leveraging the hackerspace network at Chaihuo.
But, I did take the time to come over, and honestly I am glad I did!
Carman the owner of the space, is a great HK businesswoman, and has been in contact with the Hong Kong startup community about this space for almost a year from what I gather. It is 3 rooms (if needed, but the video and photos are for 1 space), in a Free Trade Zone of Futian district. RIGHT ON THE HONG KONG BORDER, in my video below, you can see exactly what I'm talking about. The current workers here can even catch Hong Kong mobile signal. And a lot of them live in Hong Kong, and commute to this Shenzhen office.
Carman's idea is to be a mix of incubator and coworking. The place is well decorated and finished, and we can connect angels with startups, and have separate glassed in rooms for those invested startups.
Its also a great gateway office for Hong Kong companies that want to enter the Shenzhen / Mainland China market.
Which is exactly what Carman did 6 years ago, she came to China to hire R&D talent, her company, 7kiwi.com is a Chinese mobile app company for the educational industry, for parents and their children to accelerator the learning process. She has built up quite a nice company, and wants to offer this Shenzhen "gateway" office to other companies starting out.
I'm talking to a lot of my friends in Southeast Asia, as well as in USA about coming to work and visit Shenzhen, and I think this office is a great window for that chance.
Hoping to get some comments / ideas over this Chinese New Years.
She is currently using the space, but plans to move out end of Feb, probably launch this space in early March 2012.
Secretarial services:
Send and receive fax to/from HK (Free)
Copy, scan, print (Free for Registration address:
Unique address and rental contract for registering company in SZ.
*In China, each unique address can only register one company.
Security: 24-hrs access card system
Each room:
Renovated office
Air conditioning
Manager and staff furniture
Wireless broadband
Phone and fax lines
Telephone
Broadband network per seat
Document cabinet
Sharing (no extra charge):
Reception
Toilet and lounge bar
Balcony (outdoor smoking area)
Meeting room
Printer / Scanner / Copy
Paper/CD/card cutting machine
Special:
-Can receive HK mobile signal within office
-Each room has two VPN account that can allow browsing any websites in the world inside China.
Incubator Team Offices
Room A
133sq.ft.
Two managers
Room B
275 sq.ft.
One manager + two staff
Room C
321 sq.ft.
One manager + 4 staff
Room D
287 sq.ft.
One manager
Room (2 mgrs)
+ three staff
Room E
170 sq.ft.
Four staff /
Two managers
Room F
258 sq.ft.
One manager + 4 staff
Shared area 460 sq. ft.