wondering if my uncle is giving me a hint a bout my being a dreamer …. and artist…. in some way…he just sent me this email
DEAR MIKE,
I THOUGHT YOU MIGHT BE INTERESTED IN THIS ARTICLE. PARTS OF IT, I BELIEVE COULD PERTAIN TO SOME WHO ARE NOT ARTISTS.
……. ((((rest deleted from this blog entry)))……….
LOVE,
UNCLE BILL
here is an excerpt from the article – full article is by Lori Woodward (loriwords .com is offline) on clintwatson.net 20% Dream and Scheme, 80% Do
The World Needs Dreamers Who Perform

Now don't get me wrong… Dreaming is a great thing because the world needs dreamers. Most artists are dreamers by nature, but the hard cold fact remains that if we spend the bulk of our time dreaming and scheming, and not creating great work, our dreams are not likely to ever come true.

Ask any successful artist how much time he/she spends actually creating artwork, and you'll find that time in the studio far exceeds time either planning or dreaming. You see, they settled on some plans and dreams early on and then took immediate action in pursing those dreams. I am honored to call a handful of highly successful artists my personal friends. I see how they conduct their careers and their marketing efforts. They all have one thing in common… they are productive. They paint/work whether they feel like it or not. They put the horse before the cart, first creating a dynamite work and afterwords, they apply the best marketing tools to get their work before collectors' eyes. In fact, these artists didn't have a hard time getting into galleries because the quality of their work is evident.

I'm going out on a limb here, and this might make some of you angry, but I have to say it because this is what I believe…
While I am not an artist in the true form, I believe in a way I am a dreamer therefore a creative artist in business / internet.
This photo below taken by my good friend Scott Katin, shows my gazing into Duck Pond in Yellowstone NAtional Park, USA back in summer 2003. I still look at this photo and think of how much I dream and set goals in the sky.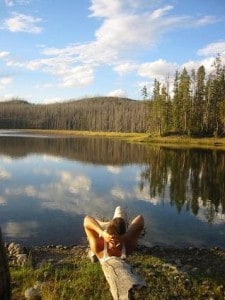 So many times, family, friends, and even work colleagues tell me I need to make a more defined path. A more defined goal with a milestone chart to get there…..
But I don't think any plan could have gotten me where I am. And if I had set this plan back 5 years ago, would it restrict me from getting where I am today? Would I look at that plan and path and not stray from it, for fear of losing control or losing track of where I was going?
I am a trailblazer…I like to open markets, create opportunity, create jobs and new business. I am not a manager…..I always feel I will create the opportunities, get the basics of sales, marketing, and operations established and I will have a manager come in later and straighten out the details.
Is this unrealistic? Idiotic? Cocky? I don't know….sadly as I move along in life, I feel more and more let down by those I feel who are to manage what I have trailblazed. But is that really my own fault for creating a mess and not able to be transitioned over properly?
I am a dreamer. I believe I perform…..I execute…..maybe I perform TOO QUICKLY? Or without enough planning.
I think life is all about growing as a person, learning who you are, and how you interact with others. I'm just afraid that I don't pay enough attention to detail, am a forceful / dominant personality, and cannot contain people who try to "manage me". I don't mind someone managing a company or a project that I am involved with….but…
I am an artist….and I don't want to be managed!