As we are "de-thawing" from the long Chinese New Year, I have been busy setting up an official Wechat account for the blog and podcast. For those not familiar, Wechat is a chat app (and more) that has taken over the Chinese internet and mobile phone by storm. Funded by the massive Chinese internet company Tencent, it seems like an unstoppable force in China, and even out side of China it is getting traction.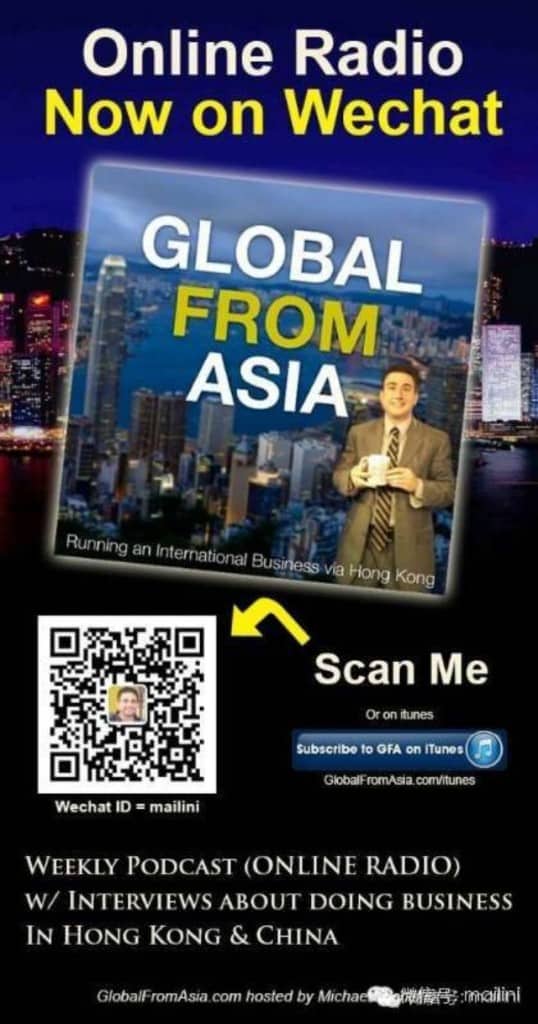 I recently had a podcast with Brent Deverman about leveraging Wechat for business if you want to check that out for more inside information on how to do it for your business.
In this post I will explain how my own "official" wechat account is setup and why you should subscribe.
I Picked Serviced Account over Subscription Wechat Account
So there are a few ways businesses can setup an official wechat account – the two main ones are subscription account or serviced account. I picked serviced because it has the ability to do e-commerce (mobile commerce) and people can pay for products and services directly through wechat to this account. I am still awaiting approval on the products, but for example I am listing my book Hong Kong Supercharged there, and if someone in China wants to buy the book they can do it directly inside Wechat with their Chinese bank account. Pretty wild right?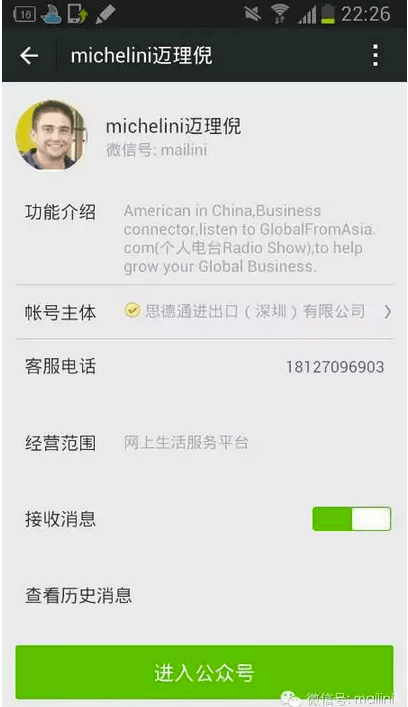 The drawback of the serviced account is that I can't push so many messages to people who subscribe, I can only post 4 per month. That is where a subscription account comes into play – you can push one new post per day to those who subscribe. But you don't get the e-commerce (mobile commerce) ability. I don't want to push so many updates anyway, I think those who want to listen will come and check it out when they have time. Honestly, not sure why Wechat made all these different choices, some people open up both a subscription account and a serviced account – but for me I can only handle 1, if that!
Will List the Forbes China Entrepreneur Interviews
I know I haven't shared an interview here in a while for the Forbes China column I am so excited about (if you want to check them out they are listed in Chinese on Forbeschina.com/column/michelini and I will syndicate them in English on this blog – as well as in this new Wechat channel.
Still plan to only have one or two of these per month, now that things have started to get rolling with the communication and workflow between me and the Shanghai Forbes office. This new year will rock.
Publish Global From Asia Podcasts there too
So this Wechat channel will have all of the various content I am producing, the Global From Asia show now has 74 episodes and my wife Wendy went back through all of them and made them fit into this Wechat format and had to re-upload the mp3 files to the China server. So you'll be able to get all the back episodes.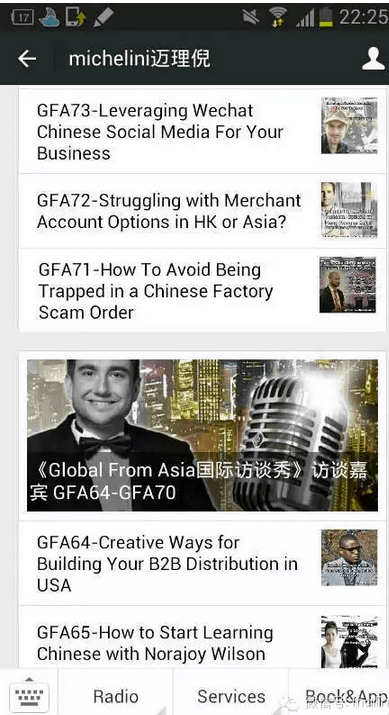 I know I have gotten messages from listeners in China who sometimes cannot connect to iTunes or my podcast website – so now that it is in Wechat you will be able to definitely get through. So for those frustrated listeners- definitely this is your answer!
Though I am a bit wondering how this is all going to be managed, the reviews, the promotion, the language. But it is a test and I am excited to see how it goes.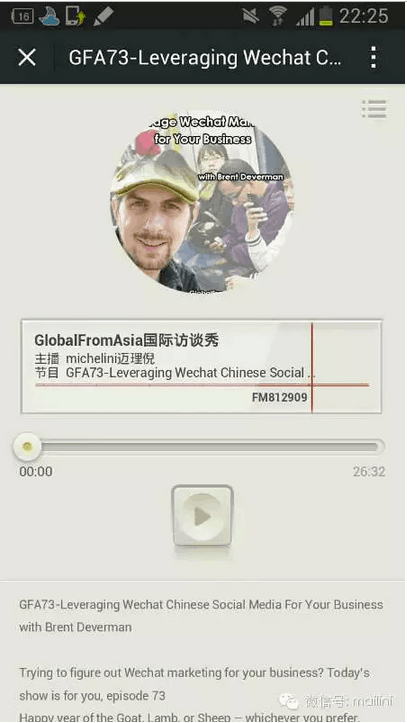 Will Also Share These MikesBlog Posts (Selectively)
I will have to self filter what I put into the Chinese internet, but for the most part these blog posts will also be shared inside of the Wechat official account. It is basically having us copy/paste the text and images with only a small backlink to our site on the bottom left of the wechat page. A bit disappointing, but at least the content will get to reach more people.
I think Wendy will help to moderate what is posted there, and also selectively have it localized / translated. We'll see how it goes and what readers in Wechat think.
Will List All Projects, Mobile Apps Inside This Wechat Account
I know a lot of people are confused on what I exactly do, inside of Wechat I will list all of the products and services and business I am involved in. Basically this is a blog inside of the Tencent Wechat system.
You'll be able to click into the list of mobile apps I am part of, and can download and install an app you like directly onto your phone with 1 push. Easy.
But one of the cooler benefits that is just the very beginning is the ability for people to listen to the audio right inside of the app, as well as make mobile payments right inside the app. So this is my first try at it and it is mostly for the Chinese market.
Maybe I'm overly excited about this – but it is a big move in the mobile space as far as I'm concerned. And will totally change banking in China at least, and maybe other parts of the world.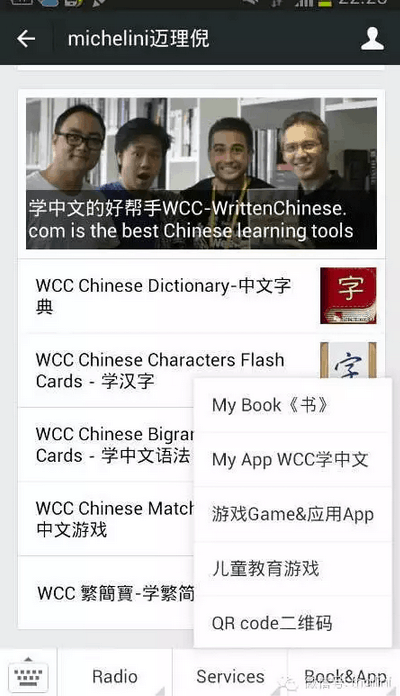 Get Started and Scan My Wechat Official Account QR Code
Want to take a look? Pretty simple, and yes, its a QR Code – Wechat really took those "Back from the dead" and now everyone in China is scanning QR codes on billboards and other people's phones everywhere. Below is a the exact QR code, or I have a fancy banner design too – both work. You can scan it from your computer screen with your mobile phone, or if you are reading this inside of a wechat browser, you can download it and it will give you the option if you want to scan it (thanks Brent for the tip!)
Are you using Wechat now in your life or business? I'm sure if you have any connections in China they have forced you to do so, ha! Let me know in the comments below.