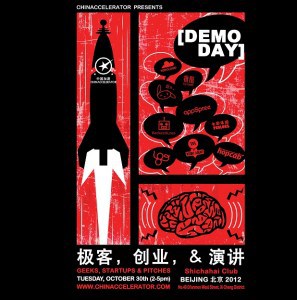 Feels like I'm graduating college again or something! And wow, its been 90 days already since I started this Chinaccelerator program. Its been a wild rollercoaster (yes GOAT – geeks on a train, but also generally w/ the startup highs and lows) and all the teams here are working day and night to finish product development, customer validation, and demo pitches!
Graduation, aka "Demo day" is Tuesday Oct 30th afternoon in Beijing, China – as much as I could let all my startup friends and supporters come, its limited space only for investors. The purpose of this demo day is for the teams to demonstrate what they have accomplished in the program, and raise some capital, and "take off" like a rocket after graduation.
Below is the official "press release" blast that the Chinaccelerator team has been sending out.
If you're an investor who can attend in Beijing, please contact me via this blog, or Todd Embley (whose email is in the below information)
Dear Friends of Chinaccelerator,

Chinaccelerator is the first mentorship-driven seed funding program held in China. Running from August to October each year in Dalian, it invites the top 9 technology-based startup companies to attend its world-class 3-month program. These 9 teams have been growing their concepts to reality over the last 90 days, shedding buckets of blood, sweat and tears, and are ready to present their product or service to the world. Whether it is online, on mobile or on tablets, in beta or with hundreds of users, the one thing we can guarantee is that if you're present, you'll be impressed.

Join us for the first chance to meet with the entrepreneurs who are designing the future of how we work, live and play!

In 2011 Order With Me, the winner of TechCrunch Disrupt Beijing, left some huge shoes to fill for this year's crop. However, these crazy geeks have outdone themselves this year and have shone through in carrying the Chinaccelerator torch forward yet again here in 2012…

If you haven't registered yet, there are still some seats available awaiting for you. We look forward to see you there!

Starts: Tuesday October 30, 2012, 02:00PM (registration until 02:30PM)

Ends: Tuesday October 30, 2012, 05:00PM (kinda)

Event Type: Demo Pitch

Location: Shichahai Club (什刹海会馆), No.49 Di'anmen West Street, Xi Cheng District, Beijing. (北京市西城区地安门西大街49号)

Price: Free – Invitation Only

Registration: www.ChinacceleratorDemoDay2012.eventbrite.com

More details: (EN) http://chinaccelerator.com/en/demo-day-2012 (CN) http://chinaccelerator.com/demo-day-2012

Intended For: venture and angel investors, limited partners, individual investors, lawyers

Networking/Q&A/Cocktail Reception & Buffet

For more information about Chinaccelerator, please refer to http://chinaccelerator.com

The number of invitees is (very) limited so please make sure to register as soon as possible.

We hope to count you in as one of our distinguished guests. For questions please write directly to our Chief Firestarter: todd @ chinaccelerator.com.

Onward,

The Chinaccelerator Team.
About Chinaccelerator
Chinaccelerator
Chinaccelerator (a member of the Global Accelerator Network) is the first mentorship-driven seed funding program in China. The accelerator program is committed to helping entrepreneurs who are innovating at the cutting-edge of information technology to create successful start-up companies. Participating in Chinaccelerator gives startups enormous validation and access to the best, brightest, most experienced network of mentors which will be with them to help curate and cultivate every aspect of their business. The program also provides the chance to pitch early stage investors during the Beijing Demo Day, where the founders will take their products live and graduate through to being ready to raise money on a larger scale.
Graduating Startup College!
I am a true believer a big industry to get disrupted is education, and that these kind of programs will continue to grow. What I've learned here versus college is amazing. And learning by doing, getting mentor feedback along the way. I'm so excited to share my knowledge, and support more entrepreneurs to FOCUS and take a risk, make a stand.
Ready to takeofF!
Over + Out.