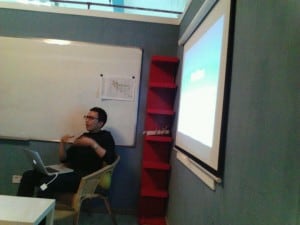 Catching up those who missed our first Shenhen Startup Tuesday since 2011, you missed something great! Even though we moved the location to Chaihuo, causing there to be a few lost and confused people calling my mobile throughout the evening, we had about 20 quality entrepreneurs and business enthusiasts there.
I was typing on my mobile during the event, and will do my best to recap here:
Those who came, in order of attendance:
2 Baidu guys, Yuan, twitter @chengdujin
Dave Ho, doing SEO agency Solid Rank
Chris Gormley from Genesis Marketing, doing LED and consumer electronis
jason, who has his robotics parts business. he has a seat in ChaiHuo.
li, the Chai huo administrator
Cyril Ebersweiler, awesome to have him in Shenzhen! He is behind the world's first product accelerator Haxlr8r.com
Eric Pan – founder of Chai Huo, SeeedStudio, and also partner with Cyril in Haxlr8r
michael jiang just moved back to Chinese after 10 years in Silicon Valley, USA
Henry who has a ecommerce site selling home funishings in Australia.
stefan German who just moved to Shenzhen (and a new roommate for me), working in a QC company.
mihran – founder, CEO of DianBoom Chinese 3D shopping mall
Atomman – product hacker, often in Chai Huo
Terry – attended our last Startup weekend, and involved in SZdiy. A Java programmer at IBM
and a few more…sorry I should have had everyone sign in!
Haegwan talked about Lifecraft, that he is Korean who lived and worked in Japan as a developer, built up knowledge and a network there. He started lifecraft to help entrepreneurs meet each other, help each other, and grow. He said he moved to Silicon Valley because it was much easier to get funding and entrepreneurship support. Plus lifecraft is all about entrepreneurs and startups, so they should be in the center, which is still Silicon Valley.
He mentioned Life Craft is still in beta, and invite only. He wants to keep the quality of members to those who have a startup.
It was pretty funny that Chinese didn't understand why someone would help another person online for free, without a fee. We also noticed other cultural differences between USA and China as Haegwan went on. Added bonus! And definitely got a few laughs.
He mentioned the lean startup explosion since 2005, its cheaper to start company, as more become independent contractors and entrepreneurs, Life Craft is a social network for this growing industry….
We also got into how he got funding, and he went through the 5 things investors are looking for:
problem
solution (product)
team
market
traction
Haegwan was really surprized by the amount of challenging questions. People were not holding back or shy at all. I am also happy at the group, a good mix of Chinese and foreigners. All seem serious about building up a startup community.
Hope to keep doing these weekly again, but man, I'm so busy!