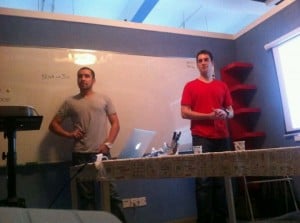 This is my blog's first guest blog post, written by Nick and Tim from TEL (The Elevator Life) American friends of mine living and working over in Guangzhou, China who spoke at last week's Startup Tuesday. So here we go!
Let me clarify the term "outsider." I live in Guangzhou, a neighboring metropolis less than 1 hour by train. I'd visited Shenzhen many times, but only the train station or ferry terminal to continue onward to Hong Kong. Needless to say, these locations are seemingly uniformly designed around China and therefore Shenzhen never impressed me to the point I felt like I should spend some time exploring the city. Luckily, I made a trip to Shenzhen this week and I already plan to go back ASAP!
Michael invited my partner and I to speak at Shenzhen Start-up Tuesday about our experience in Guangzhou (city details, business scene, ect.) and of course we accepted. Upon arriving in Shenzhen and boarding the metro, we noticed right away it was newer, cleaner and modeled more off the Hong Kong MTR service, e.g. doors remain opened and trains queued for a few minutes before departure.
We made our way out of the metro to stay with an entrepreneur contact of ours and we instantly noticed the cleaner air, the blue skies and the ocean off in the distance. The breeze from the sea helps clear up the environment and this is quite different from the stagnant, stale air we experience in Guangzhou. Shenzhen locals told us Shenzhen has its polluted days as well, but we loved what we saw. The layout is a lot less dense than GZ. The city of Shenzhen has a more Western feel to it. From the restaurants (a big plus in our opinion) to the roadways, Shenzhen is not only closer to Hong Kong geographically, but the way of life relates more to Hong Kong than Guangzhou. The city is very foreigner friendly.
What we loved most about Shenzhen was the entrepreneurial energy the metropolis emits. This buzz was apparent from the first business meeting we had with Niamh Given, the owner of Crushed Grapes…a businesswoman who has developed a great online business model to sell wines nationwide. After a pleasant lunch at one of Shenzhen's many foreigner geared areas, we took off to give our speech about International Networking at Shenzhen Start-up Tuesday event.
Shenzhen Start-up Tuesday impressed me the most. Entrepreneurs, business professionals, investors among countless others from numerous different fields all gather together for this event on a weekly basis. Guangzhou (at least to my knowledge) has no equivalent to this event…we hope to change this in the near future. The ability to network and make truly valuable connections (which we did, on various different levels) was incredible. From meeting a potential investor to receiving an AWESOME cartoon image of us, we considered the event a success on all levels.
Overall, Shenzhen is an AWESOME city and I love what I saw so far. Although there is still a lot of exploring to do, the above combine factors make it an ideal place for anyone who is entrepreneurial minded…including us. I had no idea a city so close could have such a different vibe than Guangzhou. Not to say I don't enjoy GZ and it is still one of the most opportunistic cities in China, but Shenzhen offers a very different lifestyle than what its neighbor Guangzhou provides.