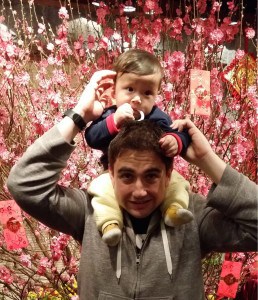 Just a quick "Happy Chinese New Year" from me and the family here in Shenzhen. Stayed local and just got work, sleep, and family time in.
Last week was the official holiday week, and there are a couple more days with the "government official holiday" ending on the 24th – but most people still won't be back in the office until March.
It is always a bit, strange, feeling as a Westerner in China during the New Year. And it was a late Chinese New Year compared to the Solar New Year (Jan 1) with almost 2 months in between. Just feel like here in China, things were in a standstill during this gap, as Westerners were just getting back from their holiday travels, the Chinese were preparing for theirs.
My plan for this year:
Staying local in Shenzhen – maybe a trip to Shanghai in April. But really with my kid around I'm a happy new dad and want to stay home and just focus on business and family.
Hustling with Unchained Apps – I mentioned my startup Social Agent merged with UnchainedApps.com and I'm on board now marketing a ton of apps in the portfolio as well as getting Social Agent product development on the fast track. Loving what I do, like a kid in a candy store – doing tons of internet marketing tactics.
Building up more online content – loving the podcast, have a 2nd book on the way, an online course almost ready too. Been doing less "offline" meetups, and focusing more on online – so I can stay with family more.
May go to USA – I want to, and I want my family to meet my son for the first time, just need to figure out when. And for how long.
The year of the sheep, let's bring it!
Keeping it short this time, I'm just simply excited we are done with both "New Years" and can "start" this new year finally! ready to rock.