While I am so far away – on the other side of the world – I cannot think but remember to stop and appreciate the amazing things many people did for me growing up. Think all of us get like this as we get older.
Popping into Facebook – our Boy Scouts Troop 105 group picked up in my feed and Steve Tabara, an amazing supporter of the Scouts, as well as a fellow Eagle Scout – made this announcement about one of the most active and supportive people in the Troop – Pete Furness.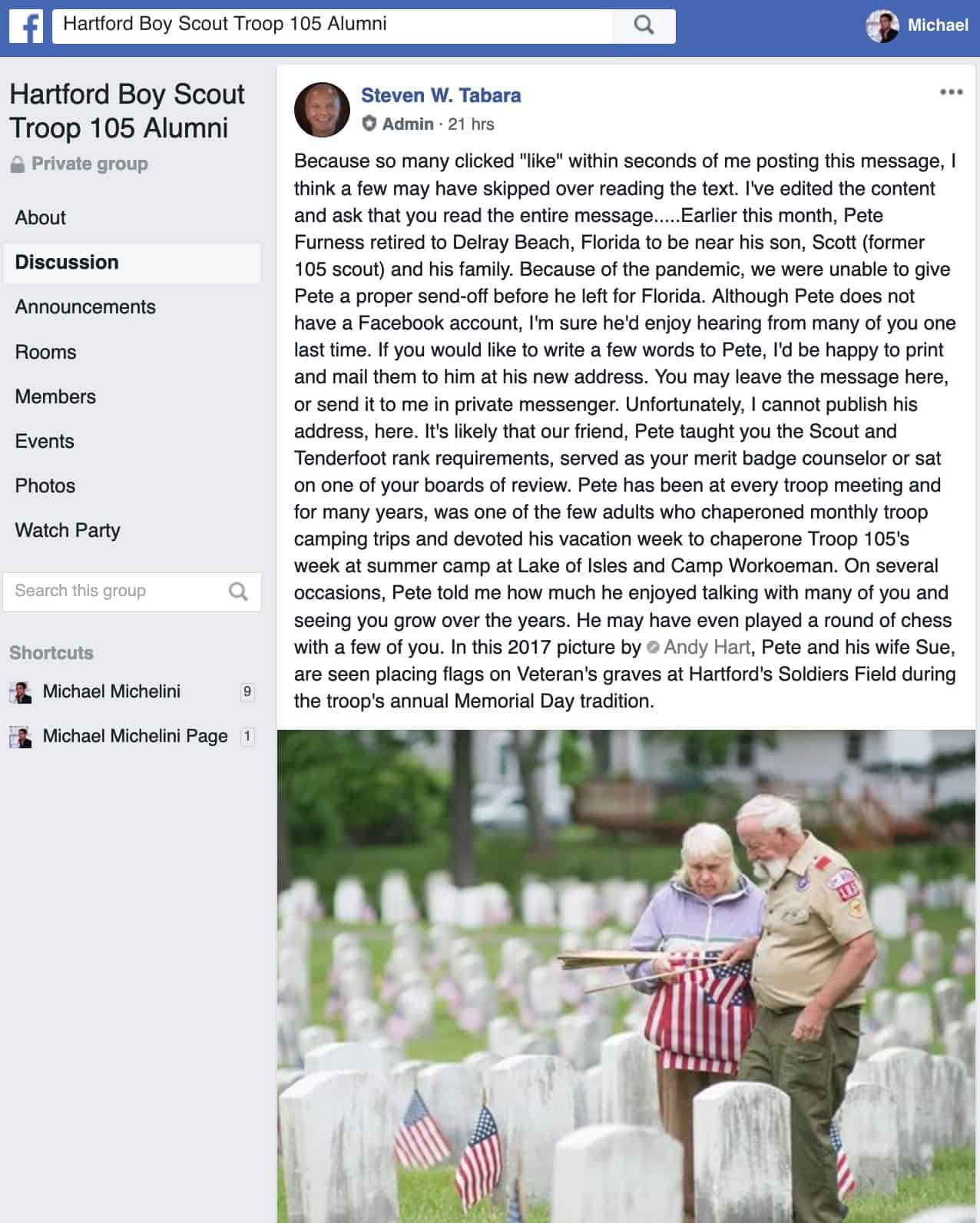 From Steve Tabara:
Earlier this month, Pete Furness retired to Delray Beach, Florida to be near his son, Scott (former 105 scout) and his family. Because of the pandemic, we were unable to give Pete a proper send-off before he left for Florida. Although Pete does not have a Facebook account, I'm sure he'd enjoy hearing from many of you one last time. If you would like to write a few words to Pete, I'd be happy to print and mail them to him at his new address. You may leave the message here, or send it to me in private messenger. Unfortunately, I cannot publish his address, here. It's likely that our friend, Pete taught you the Scout and Tenderfoot rank requirements, served as your merit badge counselor or sat on one of your boards of review. Pete has been at every troop meeting and for many years, was one of the few adults who chaperoned monthly troop camping trips and devoted his vacation week to chaperone Troop 105's week at summer camp at Lake of Isles and Camp Workoeman. On several occasions, Pete told me how much he enjoyed talking with many of you and seeing you grow over the years. He may have even played a round of chess with a few of you. In this 2017 picture by Andy Hart, Pete and his wife Sue, are seen placing flags on Veteran's graves at Hartford's Soldiers Field during the troop's annual Memorial Day tradition.
My memory and note for Pete:
Thank you Pete – can you believe it has been over 20 years since I was in Hartford and in the Boy Scouts there? And to think you have been unselfishly helping fellow scouts like me all this time.
The world needs more amazing and giving people like you. I remember the camping trips, the summer camps, the hikes with you and others who donated their time and service to help develop young men like me.
I salute you, and wish you all the best in the next chapter of your life.
Other comments from a friend – Andrew that I would also include here:
Andrew Moran:
Yes, likewise for me as well. You don't think about it when you're a kid, but he (along with you, and many others) spent a lot of weekends, evenings, and even more time back in the office planning and prepping. Thats what made our scouting experience possible. I still remember him waking us all up for the polar bear swims at summer camp.