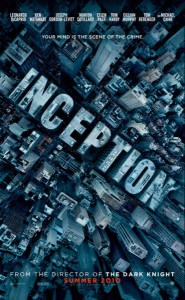 Today spent some time with andy blahnik in hong kong to see the new movie inception. I had no idea what the movie was about going in, but man i is highly recommend you see it if you like action with a mix of abstract multi-thread stories simultaneously happening.
I dont want to ruin the story for those who have yet to go see it (have already been requested not to by a few!), but the main idea is other people can enter your dreams and manipulate your subconscious – thus influencing how you will make future decisions in your life.
The really awesome twist is the multiple level dreams – dreams within dreams, where there are multiple "authors" stacked up. Entering one persons dream, you have influence and ability to enter their subconscious, but there are forces inside each of our brain from being easily influenced, some trained and conditioned more then others. These forces are armies, snipers, terrorist groups, etc to keep the action going by trying to "stop the infiltrators trying to get into "their human"'s subconscious.
Whats great is how they create a special forces team, a chemist to help people to sleep better and not be awaken (so to stay + influence the dreamer more), an architect to design the landscape of the dream, thieves and manipulators to persuade the target, leaders, etc etc…..the "dream team" if you will
One great quote from the movie was "you need dream bigger". It was in reference to 2 team members shooting at the enemy and one approaches the window and sees him using a small rifle. He says to the other "you need to dream bigger" and dreams up a massive gun to blast at the enemies.
I have always loved dreams, and I agree and I really believe dreams talk to us in our sleep. Tell us our underlying feelings about how our life is and the direction its going. Many times dreams become our "wakeup call" – allowing us to reflect and re-consider when those dreams that wake us up in the middle of the night happen. AM I DOING WHAT I WANT TO BE DOING WITH MY LIFE! This is a question we should force ourselves to answer, and sometimes dreams force us to do just that.
Writing down our dreams is good….as I'm told by many….it helps us to remember it more, analyze it better, understand it. And in the future, we remember our dreams more vividly and it becomes a habit.
I used to have a physical dream journal….stopped when I stopped my regular journal years back…..considering keeping recording dreams again…..don't think its a good idea to blog my dreams!!! And don't want to carry my dream book around in my bag!