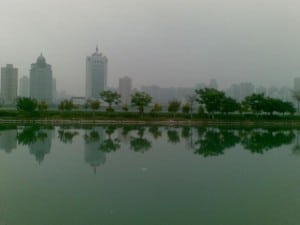 Another day in Xiamen, visited some ecommerce and sourcing people, hoping to grow some connections here and get to know the city more. Most of the others from the trade show left on Sunday, almost immediately after the trade show ended…..not giving one extra day before or after to see the city.
Maybe I used to be like that, short term, just get to the city quickly, set up a trade show booth, listen, network, and run back to the office in the city you work.
But isnt it more effective to give a day or two on both sides of the event to set up meetings? To get to know the city more?
Yesterday I took a walk around a new park, tons of foreign bars and a really cool amusement park – I was a bit scared, as you can see in the photo, that this ride was going to shoot me off the tracks (the ride basically takes you from ground level to 50 stories high, and then drops you back…) I questioned the security of the system, the quality it was built…I could only imagine myself flying off the top of the tower spinning to the ground…..but i survived!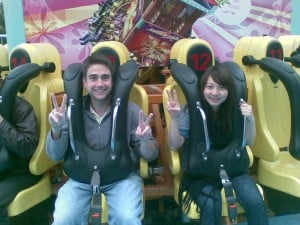 But it makes me think…..AM I BEING BOLD ENOUGH! I still feel I am resisting reaching my full potential….why not push for more in life, and more in business. I still feel my internal self telling me to stop and think, that growing an international business without taking millions from investors is impossible. I also feel the hundreds of emails blowing up my email box will crush me. That there will be some roadblock email, some alarm going off, some system crash, and I am finished. That I will fail. And it will all come tumbling down….
Maybe that is why I have trouble focusing…because I am fearful if I rely too much on one stream of income, and put all my eggs in one basket, then I will be VULNERABLE to failure……..
But actually its quite the opposite, IF I DON'T FOCUS, then i am destined for failure.
So I ahve to commit myself to growing 1 business, and growing it strong. building up everlasting cashflow, where it is difficult for a competitor to easily copy my business and crush me.
how to do that? how to be different? how to be free? How to not be dependent on investment, or debt.
To be honest I haven't found the answer to that, but the best I can say is CASHFLOW! Managing cashflow, building it, and living below your means. Save, but also invest smartly. Get good people around you, who are similar in goals, and build a support network.
Just keep on going…..after this long trip is over, I have to make some solid decisions how to grow the business to be scalable…so many risks, currency (Chinese Yuan to US dollar), government, passport visa, language, culture….
But hey, its better to have tried and failed then to never have tried at all.