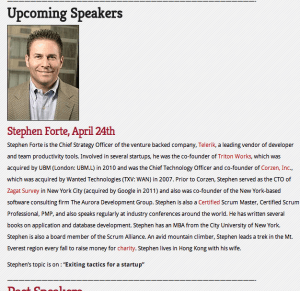 I am really excited for this week's startup Tuesday in Shenzhen, China! I even had to delay my trip to Canton Fair in Guangzhou for a meetup in order to see this speech! As posted on our Shenzhen marketing website we have Steve Forte from Hong Kong coming over to speak on his exits to companies like GOOGLE! He is also totally pumped to checkout the startup scene in Shenzhen, see what kind of companies and entrepeneurs are here across the Hong Kong / Shenzhen border, and get the scoop on what China has been upto.
Here is our writeup Rachel and Steve put together from the website:
Stephen Forte, April 24th

Stephen Forte is the Chief Strategy Officer of the venture backed company, Telerik, a leading vendor of developer and team productivity tools. Involved in several startups, he was the co-founder of Triton Works, which was acquired by UBM (London: UBM.L) in 2010 and was the Chief Technology Officer and co-founder of Corzen, Inc., which was acquired by Wanted Technologies (TXV: WAN) in 2007. Prior to Corzen, Stephen served as the CTO of Zagat Survey in New York City (acquired by Google in 2011) and also was co-founder of the New York-based software consulting firm The Aurora Development Group. Stephen is also a Certified Scrum Master, Certified Scrum Professional, PMP, and also speaks regularly at industry conferences around the world. He has written several books on application and database development. Stephen has an MBA from the City University of New York. Stephen is also a board member of the Scrum Alliance. An avid mountain climber, Stephen leads a trek in the Mt. Everest region every fall to raise money for charity. Stephen lives in Hong Kong with his wife.

Stephen's topic is on : "Exiting tactics for a startup"
Because so many people ask me whats the topic this week at Startup Tuesday, I thought it would be effective to make 1 post, before the meetup, and then update the same post after the meetup – so this will be the first week I use 1 blog post to say the BEFORE and then the AFTER below it…hope this doesn't confuse people too much.
Will post more AFTER the event below — End for now.
after the meetup
Really above and beyond my expectations! We really should have recorded it. Steve uploaded his slides for everyone on slideshare, exiting a software startup
More powerpoints by Stephen Forte
Exiting a Software Start-up — Presentation Transcript
1. Begin With the End in Mind
A little something about exits
Stephen Forte
twitter @worksonmypc
Weibo: @SteveForte
2. Warning!
Don't start a company in order to get rich
Your chances of success are very, very low!
That said, if you want to learn about exits, start here 😉
3. Definitions
Legal term:
change of control Someone has taken legal ownership of your company Usually when someone acquires your company
Legal term: liquidity
event Someone invests in your company, IPO
4. Type of Exits
Acquisition
Asset v Share
Merger
Reverse Merger
IPO
5. Motives for an Acquisitions (buyer)
Strategic Acquisition
Expansionary/Entering new Geography
Integrative/Supply Chain
6. Ways to price an acquisition
Public-private arbitrage
DCF/NPV analysis
Cost savings
7. You sold your company, so you're rich, right?
Cash up front
Cash + equity up front
Installments (cash/equity)
Earn-out (cash/equity)
EBITA based
Any performance metrics
8. When to Sell?
New co/pre-revenue
Usually an earn out (unless strategic)
Dependent on the owner's ability to execute
Early revenue/no profits
Will usually bring out the DCF analysis
Usually the Lowest valuation
Profitable/mature Public-private arbitrage Best Valuation
Post-mature
9. Stages of an exit
Negotiation leads to an offer
Letter of Intent (LOI)
Due Diligence (DD)
Legal Documents ("Docs")
Re-negotiation of the LOI!
Close
10. How Investors Effect an Exit Investor may push to sell too early VC's usually have warrants against your company Your ownership is diluted Your company will be *much* better structured for an exit Investor will be dispassionate at the exit (you will be emotional)
11. Q&A