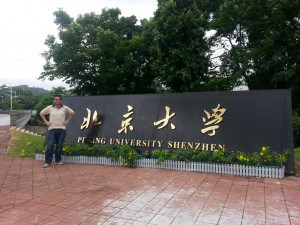 I was honored to have been invited to Beijing University at Shenzhen to speak about my China business and entrepreneurship experiences. I had met the professor, Richard, during my days hosting Startup Tuesdays in Shenzhen about a year ago and he always mentioned he'd love to have my do a sharing session in his class. Finally made it happen!
Last Tuesday (June 25, 2013), Edward (summer intern with me) and I headed up to the University section of Shenzhen (pretty far North) – its an area I am not so familiar with, but has both Beijing University and Tsinghua University – both top Chinese universities that have a branch in Shenzhen for graduate and doctorate programs.
I had about a 1 hour slot to speak, and of course some time for questions and answers. I've uploaded the files here, but I also like to outline the discussion topics:
Personal and Business background – I always open showing the map of USA, showing that I am from Northeast USA (born in Connecticut, college in New Jersey, worked in New York City) – so many Chinese think all Americans are from the same background and heritage, so I quickly explain this point here.
Why I came to China, and the first few years – Always fun to share how my Hong Kong friends I knew from USA thought I was crazy to live in Mainland China. My first few days in Shenzhen with my luggage staying in hotels looking for a home office. Registering a WFOE (Chinese company), accounting tactics, hiring staff. All that fun stuff.
Transition from export e-commerce to Consulting and now Social Agent – Then the fun part about the inflation in China, the transition I see from being an export driven economy to a domestic driven. And how I am still working hard on finding the right fit for product/market fit for Social Agent – to help western businesses do business in China via social media – which now has turned into a crowdsourced lead generation tool.
Questions from the Students
Why didn't you first get a job in China? You could have built up experience and a network and then done your own venture. Answer: sure, I could have done that, many do that. But I had already worked for almost 5 years in Deutsche Bank in Wall Street, NY to save money and get experience. I didn't want to spend more time waiting. Especially because working in another company will not give you the full freedom and ability to set meetings, phone calls – and this blog. I am always nervous that my blogging my conflict with my day job. I have been hyper networking and learning so much more as a fulltime entrepreneur than trying to get by doing it on nights and weekends.
Why do you choose to do an internet startup, that is already dominated by Alibaba, Tencent, and Baidu. What other western businesses do well in China? Maybe you can study those industries and do that? Answer – well, if I opened a McDonalds or KFC when I first came to China I'd maybe be all set. But I don't want to sell fast food in China! I want to do an internet based business, and I am for some crazy reason still trying to do it from within China!
Why did you choose Shenzhen? Answer – popular question, I will summarize quickly because as a fulltime enterpreneur, I didn't get a MNC work permit and if I stayed in Shanghai or Beijing, I would have to fly every 30 days. Also, weather is nice (hot I know), and internet was faster than Shanghai (in 2007 at least)
What are the most important people you have met here for your business? And how did you find them? Answer – I really like this question!! I would say finding Chris Li, my technical co-founder in Social Agent has been critical. I found him by being active on social media, and active in the Hong Kong startup scene – and mutual friends connected us. Other key people I have met is my advisors and mentors – that is from I would say being active organizing startup events, as well as participating in Chinaccelerator program. Others would be my team, after years of working hard in China and paying people even when maybe I could have gotten out of it – has built trust.
Hey Mike,

Thanks a lot for coming here and sharing your entrepreneurial experience. I've certainly learned a lot from your talk. Best wishes on your new venture.

Cheers,

Richard
After the class, Richard treated us to some NYPD (new york pizza delivery) pizza and then we took a nice tour of the campus! Back to work on Social Agent startup Tuesday afternoon refreshed and motivated. Hearing perspectives and questions from students always gets my mind spinning more creatively.
Got a nice thank you from Richard below, it was a pleasure to be there!