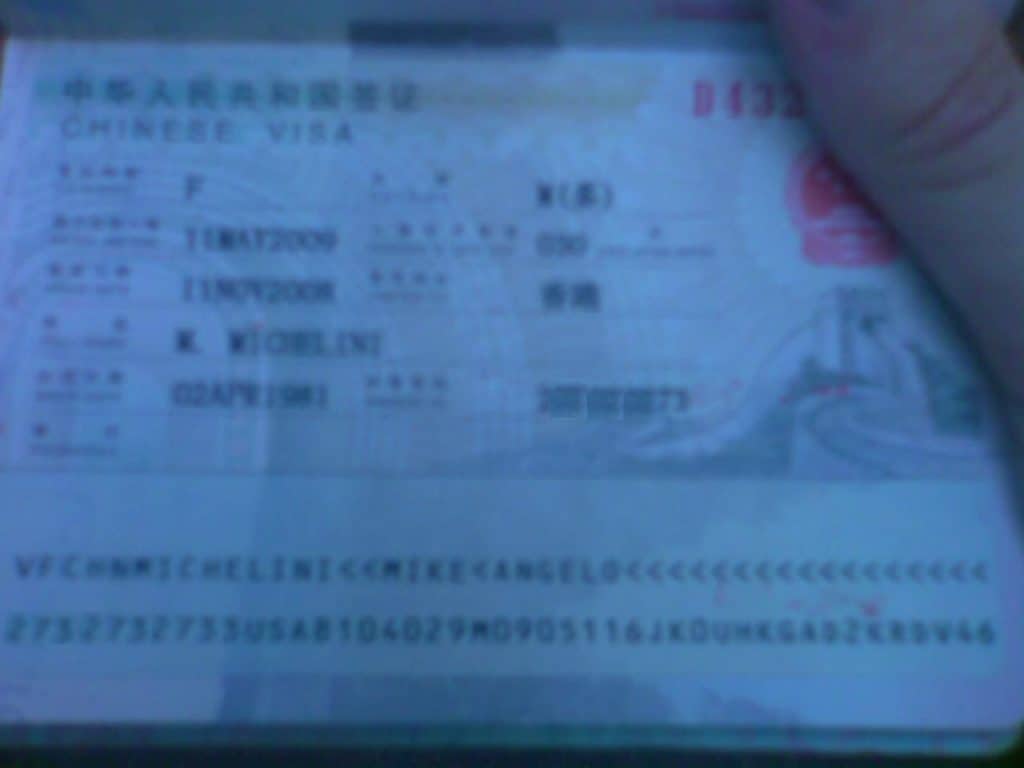 having dinner with Brent today, discussing chinese visas, passport expirations, all those worries one needs when traveling in a country that requires a passport visa, and then I realized my current visa expires TOMORROW!!!!! Basically, after dinner, quickly met Bas and Maritess and Charlotte, who have just arrived from the Phillipines, and rush to the border before midnight strikes and its the 11th.
This swine flu makes it extra difficult, as I need to fill out more medical declaration documents on top of the regular customs declaration forms. Exit China, enter hong kong, go to the public bathroom on the border, take a look at the buses and taxis, and then turn around and go back to the border – exit hong kong, fill out more forms for anti-swine flu declarations and customs duties. Enter into China. In the foreigner line, the particular border control officer takes extra time looking over my passport, visa, and documents. Was a bit concerned, but i'm so far by the book, even if it is only 2 more hours before being invalid. Stamp, stamp, fold, pass – I get my passport stamped. Now I can remain in china 30 more days on this visa. And then I will need to leave the country and renew. If I leave before 30 days, then I cannot re-enter on this visa and I'll have to re-apply.
Applying for a Chinese Visa – Lots of fun, depends on what country you are coming from, what your plan is for coming to china, and how long. normally a 6 month multiple isn't a problem (coming in as an american citizen) but the visa regulations have been changing quite often. The foreigners here have been having a lot of conflicting stories, some on dual entry 3 month, others easily received a 1 year multiple. Depends on the luck of the draw, and how the government feels that day or week. Asking a visa agent (or travel agent) and you won't get much more certainty either, as they also explain the rules and regulations change each day from the government.
So we keep pushing onwards. In a way, getting such a hurdle is discouraging. Such a struggle to remain in a country and getting the feeling you may not be welcomed. I don't blame the chinese government, as I am not too familiar but know USA is also difficult on foreigners residing in the country. Its just a part of being a non-citizen of a country you are living in. And it builds character.
---
Update: May 25, 2010 – My friend just emailed me:
I was wondering if you have found a solution I may not have heard about it or if you have a good contact with the right connections.
With the SH expo, it is getting almost impossible for French to get visa, at least done in HK.
My reply:
Yes, this visa crap….always a problem. I am lucky to ahve gotten work permit until Dec this year, because I am owner on my WFOE I didnt have to go back to USA. It cost a bit of time for my worker to get it done, and then about 800rmb fee plus some other random fees……
some other foreigners I know ask bigger Chinese companies if they can get an employment contract under that chinese company to get a visa…but its a relationship thing, and not too too familiar how that works.
some have asked if my wfoe can issue a work permit for them, but because its such a small registered capital company (not paying much tax) i am told the government wouldn't approve it
wish i had a better answer for you…….yes, this expo has been difficult for everyone in some ways, i am in shanghai now and the hotel made me register with the police before i could check in
---