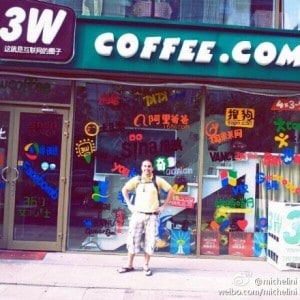 As expected, this GOAT (geeks on a train) trip has been a whirlwind – over-packed schedule of events and meetings. We arrived to Beijing Friday morning, about 8am after an 11 hour overnight sleeper train from Dalian. A group of over 20 entrepreneurs, we entered the Chinese capital city of Beijing with wide eyes ready to take on the world!
The Weibo Agent startup team (Gabree, Doug, and I — Amy is keeping things in check in Dalian while we're away) rushed to a meeting with KM social, a Chinese social media analytics tool – to talk about cooperation and cross promotion. The problem was that our hotel rooms weren't ready and had to rush quickly via un-clean hotel rooms changing into new clothes after a long overnight ride on the sleeper train.
A nice traditional beijing noodle lunch w the KM social guys and then we rushed off to IBM smart camp ceremony for the afternoon. IBM smart camp is a global IBM program to support entrepreneurship, and this was a pitch and award ceremony to the top selected startups in all of China. IBM also has this smart camp in other major cities worldwide.
Weibo has been an amazing tool for me to network, and I had meetings jammed up all throughout the weekend. Mobile gaming companies reps, old friends doing biz development and merger and acquisitions. Got a "hot oil cup" massage Saturday morning with my old friend Gao Xing – leaving red bumps across my back.
Saturday afternoon was the Chinaccelerator / iWeekend joint "10×10" event in Beijing. It took place at the Microsoft Bizspark Beijing headquarters and I was able to meet Tim Xiong there (Had talked to him a few times in the past about Startup Weekend events) as well as tons of mentors from the Chinaccelerator program. 10×10 stands for 10 speakers, 10 minutes – and they are all awesome mentors selected by Cyril and the Chinaccelerator program…so we really heard some motivational talks about entrepreneurship, China, business, management, sales.
Saturday night we headed to Club spark in "the place" and Stephen Bell a mentor sponsored a VIP table with champagne and more. A great time to kick back and talk to the mentors in a more open environment, as well as the other entrepreneurs and teams.
Sunday (today) we started in the afternoon with a book launch party for the chinese translation of "Tech Stars – Do More Faster" which includes lessons from the tech stars mentors and startup teams themselves. Speakers there, as well as motivational clips.
Later this afternoon a few of us went to the famous 3W coffee (a startup coworking spot) and I got a picture right in the front. Was great to post on weibo and get a ton of feedback from the entrepreneur crowd. It was an amazing feeling to walk through the cafe, thinking of how many chinese entrepreneurs had walked where I was standing….and to be right in the heart of it all. in the silicon valley of China.
Tonight I caught up with my buddy Xing again with my weibo agent team, getting more awesome strategic advice and feedback.
Tomorrow heading to mentor meet ups, and Founder magazine. Tuesday to a investor center in Tianjin, and then Baidu offices. The Tuesday night overnight sleeper train to Shanghai.
Typing this up in my hotel room here in Beijing, 10pm on a Sunday night. My friend Ashton Lee told me this is the perfect program for someone like me – an intense, structured entrepreneur program. I'm definitely like a kid in a candy store.
I posted photos on Google + https://plus.google.com/108118495524799444969/posts/MUvPL75pAmv