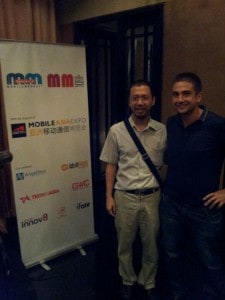 Just landed in Shanghai, China about 6 hours ago, and what a whirlwind its already been. My good friend Huck Liang happens to also be here on business from Shenzhen (he has 2 offices for his logistics business) and we spent the afternoon together. He heard about the www.amiando.com/RROOJRP.html Mobile Monday Shanghai pitch night from me and also wanted to go, and we went together after a quick dinner and tea time to catch up on business.
It was in a really high class place, right in People's square in downtown Shanghai. Bruno Bensaid was the organizer (thanks to Boyd Jones for the introduction last week!) and the way he ran the pitches was pretty good. The way it was organized was:
– 4 min presentation, 2 min q and a (but we skipped this part later on, to save time)
– 4 judges (for scoring)
– 1 popular vote using an awesome mobile system starrysurvey.com/m/mobilemonday starrysurvey.com/mobilemonday
– 15 startup app company candidates
Bruno was awesome at being flexible – the startup list changed… 10 minutes before the show started, but he made it work. And audience. votes too in the fashion of like or don't like, with a popular winner and a judge winner
2 things before they got started, in past mobile mondays, people spent a lot of time making ppt – and they got sick of it, and started doing demos -which is challenging to do between pitches technically, but its much better quality pitch night – and they really enforced each one to show a demo – which was cool!
Below are the writeups I did via my mobile phone (and bluetooth keyboard) as they pitched. Apologies if I missed something, let me know and I can update. Doing my best to share what I saw with those who couldn't be there and want to know!
training beam. educational bill crampton (today is his birthday), studying language and business skills in different markets, 11 years in china, pain point – learning a language FAST easy, quicker. boomchinese.com
mobile measure, market research. surveys. data research and many more.
educational game
wodache – car pooling app in Beijing
ifeelu – music sharing experience and feeling sharing, presentation in chinese but translated to english
starry media – o2o ecommerce for local merchants
easy queue
favspot
location based social sharing of the best places in the world
augmented reality with overlay of ugc
not here
ppt remote – use your iphone as a ppt remote to save time
home wei mai – order home delivery from your mobile
iqin – game kung fu fox
lao bing ke – austin event app social network, like meetup.com
bring organizers here.
i fu zhen from hong kong and shanghai – ifortzone.com – financial management
Judges feedback
judges pick. one gives a few minutes to give feedback and advice to all startups
Overall, judges said don't fall in love with your own startup. research and love customer instead. and second is practice presentation…..selling your company but also yourself!
Here is the official information that was used to market the event:, which can be found on Mobile Monday Shanghai pitch night
Mobile Monday China Mobile Startup Competition 2012

A Joint event organized by MobileMonday Shanghai & Beijing

With the support of GSMA Ltd, the organizer of Mobile Asia Expo (June 20-22) in Shanghai

Monday June 18th. 7 – 10pm, Kathleen's 5 restaurant and Bar, Shanghai, China

MobileMonday Shanghai and Beijing Chapters are teaming up for a one-of-a-kind mobile startup competition. How unique? Well, a jury of VCs, Angel Investors, Tech Incubators and successful mobile entrepreneurs will help us select through 30 mobile startups presenting at MobileMonday China Mobile Startup Competition. Also, in a typical Mobilemonday manner, audiences will be able to vote for their favorite startup. The selected few will have the unique opportunity to showcase their technology at The Innovation Labs @ Mobile Asia Expo on June 21st morning, and gain world visibility and PR.

To qualify for the competition, you must:

Be a mobile internet startup, preferably mobile centric at inception
Be at least 6-month old, but younger than two years.
Not be VC funded yet. Angel investment is fine (but lower than US$ 1 Mil)
Be able to demonstrate a product on iOS, Android or Windows phone (or other platforms) during the competition (if a commercial product or demo is not available, at the very least you should have a video demo of the product on a phone simulator)
Be able to write slides in English

Candidates please use this template for your presentation: Startup competition application template Please do not exceed 20 slides.

To attend and participate to this unique networking event, please register this event. Entry is – exceptionally – FREE OF CHARGE, so please register fast as seating is limited. We expect 100-150 guests.

Agenda
19:00: Doors Open, networking around a drink and finger foods.
19:45: Joint Opening by MobileMonday Shanghai and Beijing Chapter heads
19:50: Word from GSMA Ltd, the Mobile Asia Expo organizer
20:00: Startup pitches, Q&A, Jury vote and Audience vote
21:15: end of competition, announcement of the selected startups.
21:15 – 22:00: more networking, drinks and food

Mobile Monday started in beijing in 2006,

sponsors – gsma, chinaacelerator, mobile monday beijing and shanghai, great wall club

todd from chinaccerator – their mentor is key differentiator…. office money is easy in China nowadays – network of mentors is what makes it different and great, sean o sullivan sos ventures… dragon den cyril. also hardware program in shenzhen, and me.. todd
It was a very well done event, and I was overwhelmed with awesome contacts during the networking times. Also noted that almost the whole night was in English, a couple startups talked in Chinese – but one of the organizers translated their speech into English. And all the powerpoints were in english. A bit strange to me being that we are in China…