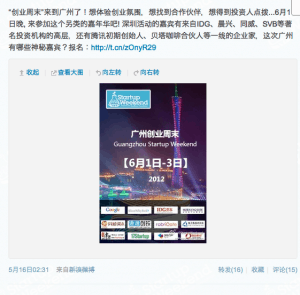 Totally physched. Coming back to China after a great trip to USA – meeting all these awesome people, Chinese businessmen who came to LA for e-commerce, startups in Silicon Valley, startup weekend in Seattle. I am learning my purpose, my drive, my passion, my calling. To help bridge USA and China startups / technology / e-commerce. Yes, its a huge task, maybe some critics will say its not focused enough. But I have been working in this "wide space" for so many years…critical mass – the tipping point is here.
I really see this USA trip as a turning point, I didn't get to go to see my friend and family on this USA trip. It was my first trip only on the west coast (LA, San Fran, Seattle) building new relationships.
I hope next time to bring some Chinese businessmen and entrepreneurs with me for their first trip to America. I can imagine how wide their eyes will open.
So the next big step towards this Startup mania in South China is Guangzhou, China startup weekend June 1- 3
As I'm writing this, we already have 8 applications – and its over 2 weeks away. Normally nobody signs up until 4 or 5 days ahead (the past 3 I've done anyway…no one knew what startup weekend was). They know now that startup weekend is awesome and they want to be part of it!
Here is the information on this upcoming Guangzhou, China Startup Weekend!
Startup Weekend is an innovative, non-profit, community-building event that brings together entrepreneurs of all backgrounds including software developers, marketers, designers, educators and other enthusiasts to start companies (or launch ideas) in just 54 hours.

The participants that attend have to make a pitch (optional) , top ideas are shortlisted , and then teams form around the ideas to come out with several projects. Finally, the weekend culminates with demonstrations in front of an audience of judges and potential investors.

Top reasons to attend this event, on guangzhou. startupweekend . org :

Build your network
Co-founder dating (Meet your other half in business)
Learn a new skill
Actually launch your business
Get Face time with industry experts , thought leaders

Meet great entrepreneurs, mentors, advisors, investors. Our previous mentors include Kenny Xu co-founder of Tencent QQ , Shawn Cui –Silicon Valley Bank , Albert Yao –IDG capital , Boyd Jones –Co power VC and more )

Join over 30,000 Startup Weekend world wide alumni
This is our first time in Guangzhou .

The startup community in Guangzhou should be really excited to have the Global Startup Weekend wave hitting Guangzhou . We are here guys to rock with you! Come check us out on the link we made especially for China .

What – Guangzhou, China's first official Startup weekend in this great city!
When – Friday night, June 1 to Sunday night June 3, 2012
Where – UC browser company office (check guangzhou.startupweekend.org for latest updates)
Who – ENTREPRENEURS! Who want to network, build a team, learn how to get a startup off the ground.
How – Signup and check guangzhou.startupweekend.org for official signup applications.

https://yoopay.cn/event/guangzhousw ( Chinese)

https://yoopay.cn/event/gzswenglish (English)

Guangzhou, China startup weekend Schedule

Friday, Jun 1
6:30pm Registration Starts
7:00pm Dinner & Networking
7:20pm Welcome & Speakers
7:30pm Pitches Start
9:00pm Attendees vote for the top ideas
9:15pm Teams start forming and discussing ideas
10:00pm Start to formalize teams and take an inventory of skills. Be honest, and direct about what resources and skills are needed for the weekend. You may stay and work as late as the venue will allow

Saturday, Jun 2
9:00am Arrive, simple breakfast & coffee
9:30am Teams formed and setting up workspace for the weekend
12:00pm Lunch
1:00pm Call for needs & skills
2:00pm Coaches help teams one-on-one. They are here to help!
6:30pm Dinner
7:30pm Mid weekend check-in, status reports, call for help
10:00pm Finished for the day. You may stay and work as late as the venue will allow

Sunday, Jun 3

9:00am Arrive, simple breakfast & coffee
10:00am Call for help (this is self motivated, so don't be shy)
12:00pm Lunch
12:30pm Coaches arrive… ASK QUESTIONS
3:00pm Gut check. Start prepping for presentations
4:00pm Dinner
5:00pm FINAL PRESENTATIONS
7:30pm Judging & awards
8:30pm Wrapup
9:00pm Go home!

Mentors & Judges

Phil Xie
Investment Manager Morningside Venture
(Morningside Venture)VC).

余俊 Andy Yu
IDG Capital
Jun Yu Worked for Intel, Jiuding Capital (the biggest PE company in China) and now Focusing on IT Tech, Internet and Mobile investment in IDG Capital. Like to join the startup teams and share.

Manav Gupta
Co-founder & CEO
Manav Gupta is co-founder & CEO of FabriQate, an award winning international Digital Media Agency.
FabriQate has worked for clients in 23 countries.Under Manav's guidance FabriQate has won awards including the HSBC Stars away two years in a row, American Express Fast 100, the Courvoisier Future 500 .He is also very active in the Mobile ecosystem in South China having organized a number of TEDx events, Web Wednesday's and now recently launching Guangzhou's first Mobile Monday.

Benti Xie 谢宏中
www.Chinastartup.cn
Chinese – English- Angel Investor, founder of Chinastartup.cn. A veteran with an MBA and IPMP in software and Internet industry, former SVP of Wondershare Inc.

Mr. Lin Wenfeng
CTO 3jidi.com
We have a solid local Guangzhou volunteer team, and the guys from Shenzhen will be heading over for the weekend as well.
I'm sure this will help spread the startup fever even more in China! Rock on!