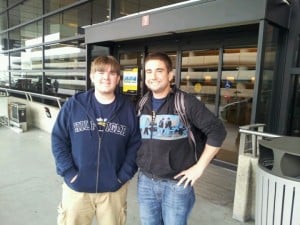 Writing this up at the hotel checking out, and then more at the airport preparing to fly back to Asia. Going through namecards, paper notes, evernote notes….tons of information. Tons of contacts. Tons of ideas. Need to digest, make a plan, focus.
My email box has been exploding. There is Guangzhou, China Startup weekend coming up so quickly: June 1 – 3, the team in China is doing great work while I'm gone. And I'm promoting it a lot in USA and in weibo and my Shadstone team is helping a lot while i'm away…..
I met with all the USA HQ guys, and developments on the startup weekend front:
We will continue to bridge USA and China startups. I hope we continue to cooperate with USA and they also agree they hope to bring great Chinese startups to USA and also other global locations and networks.
We hope to bring more USA startup weekend representatives to China, as well as USA sponsors and VCs, business experts, etc.
I am bringing a TON of USA t-shirts, books, stickers, notebooks, as much as I can jam into my bag. Hope to give them away as prizes in future China startup weekend events.
Hope to also help Chinese programmers and hard working entrepreneurs to USA accelerators, incubators, tech jobs.
Hope to give Chinee startups to have the confidence to take the chance to do their own startup, and hope this Startupweekend global community and network can help.
STARTUPWEEKEND is in 91 countries….lets help integrate this global platform with the Chinese community!

Microsoft BizSpark program is expanding as well, and they actively want to get exposure in the Chinese market through the Startup weekend developments. Very exciting talks while I happened to drop in at a Microsoft cocktail party last night.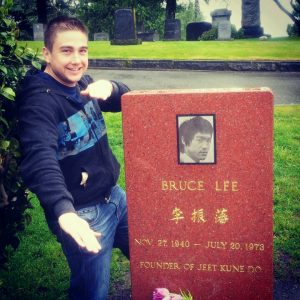 I also was able to stop by Bruce Lee's grave here in Seattle yesterday….Chinese on my weibo account kept asking and recommending me to visit Bruce. That was also pretty moving, to see a great Chinese guy now buried in America. Gave me more motivation and perspective as well about bridging these 2 massive economies that are still so polar opposite. We need to continue to build trust between USA and China entrepreneurs. Many American companies are kinda … sad / frustrated / confused how to continue in China.
I have been meeting tons of entrepreneurs, e-commerce guys, Chinese, Americans, Europeans. Driven up from Los Angeles, to San Fran, to Seattle. Met so many awesome people, from all types of backgrounds and businesses. Coming back to America has been eye opening. Really still overwhelmed and hope to use this 14 hour flight as a time to organize and make a plan.
Plane is boarding now.