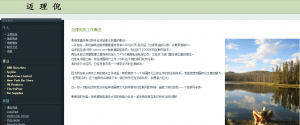 I should cross promote the two blogs more, not sure if people even realize i have this blog translated to chinese. When I first came to China at the end of 2007 my good friend, Gao Xing, gave me my chinese name, mai li ni , which is a best effort to convert my family name, michelini, to a chinese version. I first blogged about disco Mai Li Ni 迈理倪
I then bought the domain mailini.com 迈理倪 and had it translated to chinese by my staff and friends.
Its not google translate, i have Melissa currently doing it on her part time, I have to upgrade the blog style, currently on wordpress too – mailini.com/blog and I asked my friends which style of the wordpress blog it should be….I don't just want it to be the same style as the English blog, I know in China that Chinese websites are much different then American sites.
I'm also listening to my friend Larry and going to try to use Weibo more (the Chinese twitter) and link my Chinese blog feed to it. I have already gotten some buzz on the Shenzhen coworking space.
China is where the future is, I have to be more active on the social media, soon these next few weeks:
More of my english blogs here will be translated to Chinese
I will upgrade the Chinese blog theme
More effort put into Weibo (Chinese Twitter) with feed of my Chinese blog posting
I just need to learn Chinese, as I have friends and staff helping now, but when I get blog comments on my chinese blog, I cannot reply to them, I also need those translated to me.
Maybe one day, heck it should happen, I will be more active to be able to read and write Chinese. That would be amazing to me. It just seems like such a complex language, so many characters.